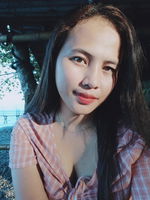 A day (Saturday) in the life of a wanderer. Laid-back. Away from the hustle and bustle of the city.
November 14, 2020.
I met a stranger and now I'm with that stranger. Why? How? Where? Well, it was dark with fancy lights reflecting at the calmest sea. I was at the finest shore with rhums and whisky. Friends are there around the table and the rest are also having the best of their nights drinking like it's the end of the world. Seated at the round table, I fixed my gaze to the mysterious man just at the opposite of my direction. He looked away pretending to not see me and now he looked like a fool to me. I just chuckled and continue doing some chitchat with friends. Anyway, that man at the opposite direction is a friend of a friend. I forgot the name but not the man.
A moment later, bottles are now down and the party goers were all knocked-out without an opponent. I didn't notice the stranger and I were just an inch apart. What is the chance in the universe that we are sitting next to each other? Well I didn't have the answer until now. He didn't say a word for that until now and I can't contain myself not to know it because that's the event where our worlds meet. That's still a mystery I want to uncover. Whatever his reasons why he hid that, still I am thankful for having him beside me -- not in a bar nor at the beach club but at home where I feel most alive.
Knowing that everybody was down drunk, unknowingly, we talked like we knew each other since then. We introduced ourselves to each other in an instant. That time he asked me about my job, where do I live, how old I am and others that could make a girl think that the guy is really interested or am I just assuming that he really is. I answered him telling my job that I am an online teacher as of that moment and I am just renting an apartment since my workplace is far from ours. I also found out that I am 3 years older than him. LOL. I remember I told myself before I would never engage in a relationship to someone who's older than me but I don't know again why I did. Haha! The stranger and I just had a short introduction about ourselves. Was it bad because I long to talk to him more? Or was it good because we still have a reason to see each other and know more. Well, I think I would choose both.
That night didn't end without us, exchanging numbers and social media accounts. He asked it first, yes of course, I'm still a girl acting girly. I gave him mine and didn't asked for his because I don't want to contact anyone first, don't wanna make a first move unless it's urgent and important. Hours later, we decided to go home and that stranger initiated to drive me home. As a result, friends are teasing and I was then blushing. Oh my! I just wished he didn't notice. I told my friends I would just go with them for me to not look desperate but deep down I want to be with him to know him more even just it's a short time drive to our home. And what did my friends do? They immediately rode and drove their motorbikes leaving me and the stranger behind so I was left without a choice but to agree with him to drive me home. On our way home, he was talking about his favorite games and all about him, taking part in a drag race and how much he loves motorbikes. I understand nothing about what he said instead I already memorized the details of his face as I am looking at him at the side mirror. Geez! Am I way too early to believe I'm in love or am I just too late to realize that we were in front of our house and I am still looking at the side mirror. Well, it's up to you to comment.
I hurriedly composed myself and got off the motorbike trying dust off my pants and brushing my hair which just showed that I am not in the right frame of mind. I gained my senses back when he said,
I'll chat. Message me when you're inside.
I just nodded and got inside after saying thank you. I was then finished changing clothes and doing my facial remedies when my phone beeped. It was a notification from someone.
You got a message from an unknown number.
I opened it and to my surprise, I was not surprised because I am really anticipating that it was the stranger who'll message. I opened it he said he has safely arrived home. Did I asked? Just kidding.
Glad to know you are home safe
I replied. The night ended exchanging good night messages and full of "see you again". Our routine starts with an early good morning texts/chats and updating each other about the errands we do. He respect my time when I am at work and I also respect his time doing his modules. Yes, he's still a student, a college student. Remember he's younger than me. Never mind the age, he has a better understanding than me who's older. Time flies like a wink of an eye and we decided to have that what they called "label". Lol. That we are in a relationship, to avoid the feeling of commitment without affirmation. To make this short story even shorter, we are together now for 6 months. The feelings is still the same as the first meet. I am still looking at him with or without him knowing. Watching him sleeping is my favorite view every night. Yes, you guess it right. We are living together. Living with him is really of big avenue to know his everything and whereabouts. I realized he's not into showing his affection through words but in action. He does the laundry, cooks good food always, cleaning the house, taking care of his pets, preparing the bed for us and whenever there are sometimes I am not under the sheets, I pretend to be asleep and he gently pulled the blanket to put over me. It's not all about the looks but his sweet gestures made me fall even more though he looks pretty too.
When I am away from home, at work or at somewhere else, I am always excited to end the day and go home. We are each other's home and nothing is really better than what we felt together at home.
I met a stranger and now the stranger and I are close.
It's not all about the time or length of time, it's all about the person.
As of now, we are still happy living our life together. I do hope, tomorrow's going to be the same. Haha! Thank you so much for reading. You might wonder that most of my articles (well I only had 4 as of now) are all about dating. It's because this was all part of my experiences when I was still studying and I am happy as I recount those days whether it's nice or not.
---
Thank you so much to @Zhyne06 for always encouraging me to write here. Thank you also to @Vibration101 for upvoting my very first article. I do hope I would become like you, who's a successful writer in the platform. 💗 Have a happy day, everyone!