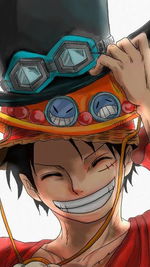 Xai and Tom come along with Thali to save their beloved. Although he wasn't really sure about his feelings for Crisha but he only knew one and it is to save Crisha from their kingdom. Xai truly understand that he's still confused to his true identity. But he could do nothing but follow the rules of the place he never grew up in.
The couple Gray and Juvia didn't even come along, because they had a child waiting for them. And as Clay said, Xai is the star of this story. However, Tom also seems to have played a big role, as he is willing to embrace one sided love just for Crisha to be happy and achieve the true love she hopes for. Even though Tom knew his heart would break, that was his compensation for Xai's goodness to him.
"I want to see Crisha right away," Xai said, that they were just about to get down in a private helicopter.
Tom was only observing and didn't say a word. It's not a castle that you could see in his eyes like those in fairy tales. They were just in front of a huge mansion yet elegant. There are gold wall decorations and diamonds. The surroundings are also very wide, a great example of nature. The breeze was fresh and quiet. Charles didn't even notice it because the only person in his mind was Crisha, to see his beloved.
"She's inside" Thali replied frugally and her feet started to walk. But she stopped again when she look at Tom.
There was no reaction to Thali's face, but her mind and heart were glad. She likes Tom. She never forgot the day their lips touched even when it was just an accident. Thali also didn't lie when she confronted Xai and confessed that she didn't really like Xai that she was only forced by her parents to have an agreement for the sake of their kingdoms. And the princess also knew that Xai would not agree.
"Show Crisha first," Tom added and Thali's mood suddenly changed. Xai looked at him and barely punched him to the side.
"I already told you right? Do you not understand what Gray said, I am the star of this story so let me handle this" Xai said.
"The story is not fun without a villain. Forget first all that we put together, all the help you gave me. For now, treat me as an opponent first. Not an opponent of the massacre, but an opponent in Crisha's heart, "Tom responded and shook a frugal smile on his lips. Tom's feet walked closer to Thali. And when he stood in front of the princess, his eyebrows raised.
"Take me now to Crisha," he ordered Thali. The girl just looked at him badly.
In fact, the blood was boiling over the princess's body, not because of Tom but because of Crisha. She could not accept that someone like Crisha who was just an ordinary citizen was being loved by these two men. Thali didn't answer Tom. She just turned her back on the young man and walked her feet quickly to the large mansion.
"What happened to your princess? There must be something in her brain that you can't explain, is she normal? " Tom's smiling insult to Xai. Xai's feet also crossed. As he approached Tom's presence, he reacted with a smile. He even tapped Tom's shoulder. Xai still shook his head. Tom was thinking constantly about what was going on in Xai's mind.
"As far as I know Thali admits to me that she doesn't like me. Now I just realized that he liked someone else as I watched her earlier. Maybe you already know who---"
"I don't care who she likes. I'm here for Crisha" Tom said immediately.
Tom knew the princess wanted him because Thali had confessed it to him. However, he didn't feel anything for her even though she's a royal. Tom did nothing but follow Thali into the mansion. Xai continued to shake his head and the smile remained on his lips.
Finally they reached the main door. It is huge and very wide. Thali just stared the door with no word out of her mouth nor hit the doorbell nor did anyone else, but the door opened. Xai and Tom looked each other. This time around, they both became serious. As they looked each other's eye you can definitely see a conversation with their eyes which is reconciled and understood. They only want to get Crisha and will leave the place.
But...
When they entered the mansion. Everything seems to be planned. The King and Queen sat on their throne in the hallway as they talked and laughed at Crisha. Thali's eyes were dimmed, she's annoyed again because Crisha had acquired Xai's true parent's will. The two young men were surprised because they could not expect what they were going through. All they could think was Crisha is in danger. But now that they see the girl, it's in good condition.
When Crisha hugged them she was overjoyed. She quickly got up from her seat and ran to the two. Crisha hugged Tom first she jumped on the young man and embraced it tightly. Tom loved it too. When Tom confronted Xai, he released his tongue slightly to tease him. Tom wasn't disappointed because Xai was actually annoyed. Xai with no doubt pulled Crisha from Tom and hug the lady.
"Oops! I'm sorry, I didn't notice you I thought Tom was the only one who cared for me. I thought he was the only one who would save me here, " Crisha insulted. Xai stopped. He held Crisha's hand tightly and dragged her away so they could leave the area. But before they could reach the door the King and Queen stopped them.
"Wait, Prince Xai!"Due to the annoyance and anger that Xai felt, he confronted his real parents.
"She'll be your personal maid when you first think about staying here. We will not force you but at least for a little while you will give us a chance to explain and be with you, "the Queen explained to him. Suddenly Xai thought. Not because his mother asked him. But because Crisha will be his personal maid. Many series immediately came to his mind. His mood changed right away.
"What?"she shouted.
"A famous good actress like me, you'll make me a personal maid of Xai? Oh c'mon King and Queen! No!"Crisha complained boldly.
Xai would have opened his mouth to speak, but Crisha's mouth was like a gun.
"I promise I will help you negotiate with Xai, but not in this way" Crisha again spoke to the King and Queen. Then she turned to Xai.
"Look Xai, you know how much I love you even though I still scream all over the world. But I can't accept that---"
"I agreed to stay here and keep what you said. She will be my personal maid and nothing else" he said as she stared into Crisha's eyes.
"And he will be Thali's personal driver," he added and pointed his finger to Tom.
"Are you crazy?" Crisha grind on Xai. He drew his mouth to her ear.
"If this is the only way to keep your eyes on me I will accept their offer. You might even trade me with others " he whispered.
"Xai!!" She shouted. Tom smiles in anger. Thali's heart was celebrating again in particular, Xai asking Tom to be her personal driver.
.....