Philippine Traditions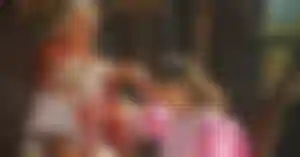 A. Look for an image that you think best represents the Philippines. Explain why you have chosen that image. The image or picture of the object of your choice must not be suggestive of our countries such as our flag or its colors, and indigenous identity.
Pagmamano In my perspective, this painting that shows "pagmamano", best represents the Philippines. Giving respect to the elderly is a characteristic of Filipino family practice. "Pagmamano" is a Filipino gesture of respect to their elders. When a Filipino child meets an older relative, he or she greets them with a gesture known as mano po, which entails taking the elder's hand and placing it on the youth's own forehead to show profound respect for the senior. The elder will usually say "Kaawaan ka ng Diyos,", especially in the provinces (May God have mercy on you). Elders in heavily urbanized places, such as Manila, commonly say "Bless you" or "God Bless You." Aside from that, you can hear the words "po" and "opo" in the Philippines. When speaking to elders or someone they respect, Filipinos use these terms to express their regard. In a conversation, they frequently punctuate or complete a normal sentence. When responding to queries from an elder or a respected person, "opo" can be interpreted as "yes." Filipinos are trained from a young age to respect seniors, not only inside the family but also in the community, whether strangers or relatives. If parents start teaching their children how to do the mano when they are one year old, they will grow up believing in it and putting it into practice wherever they go. The centrality of family in Filipino culture inspires respect for seniors. Because Filipinos are devoted to their families, the elderly are cared for in the homes of their children or grandkids. You are acknowledging the elderly's worth in the family by allowing them to reside at home.
B. Contrast folk culture and popular culture. (5 points)
Folk culture refers to the goods and activities of rural small-scale social groups that are relatively homogeneous and secluded. As a result, folk culture is frequently linked to tradition, historical continuity, a sense of location, and a sense of belonging. Song and dance, narrative and mythology, vernacular architecture, everyday items and apparel, diet, habits, social laws and structures, agricultural and craft production, religion, and worldviews are all examples. Popular culture is the set of habits, beliefs, and objects that express the most held meanings of the social system. It encompasses, among other things, media items, amusement and leisure, fashion and trends, and linguistic conventions. Popular culture includes popular music, print, cyber culture, sports, entertainment, leisure, fads, advertising, and television, among other genres. Some sporting events, such as the World Cup and the Olympics, are watched by millions of people throughout the world.
C. How does popular culture affect our lives? (5 points)
Popular culture surrounds and influences us from the minute we are born. It's the shared values and practices that bring people together. People's perceptions of the world are influenced by pop culture. It not only reflects what society thinks of itself but it may also be used to affect social change. Everyone's daily lives are influenced by popular culture. It doesn't matter if it's done directly or indirectly. Because popular culture is such a broad tent under which many diverse aspects of life and society seek refuge, it can be understood in a variety of ways. Music, movies, toys, and other forms of entertainment. Every day, pop culture has an impact on society, but it has a particularly strong impact on our generation. It has a variety of effects. Trends are fast gaining popularity, and new ones emerge all the time, having a significant impact on youngsters. I am a teenager, and I believe it influences practically every aspect of our lives, including the music I listen to, the clothes I wear, the things I buy, the movies I watch, and the books I read.