Experiences in the limited face to face classes for Nursing students at Bicol University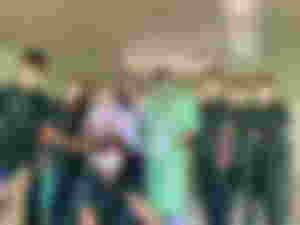 Only Related Learning Experience (RLE) or Skills Laboratory Classes will be held in a face-to-face setting for our Nursing program. The decision to begin face-to-face instruction has presented a challenge to school administrators, who must guarantee that health precautions against COVID-19 are applied while maintaining the greatest level of educational quality. The rearrangement of its educational programs was one of the problems we faced while preparing for the face-to-face lessons. There is still more work to be done, particularly for the academics who oversee the courses. Because only 11 students will be allowed in the classrooms and laboratories during the engagement period, the 1.5-meter physical distance will be enforced. To accommodate all the pupils, teachers will have to conduct practical sessions in batches while adhering to strict health regulations.
In addition, the teacher must determine which outcomes and topics will necessitate face-to-face interaction, as some lectures will be delivered online. Students who will be attending the limited face-to-face classes will be limited to two days on campus. The fewer days they spend outside their houses, the lower their risk of contracting the virus. The Nursing Students of Bicol University are warmly welcomed. Our safety is a top priority for them as our educational partners. We make certain that we are prepared before heading for school. Before leaving the house, we examine our health. We are ready if we do not experience any symptomatic symptoms.
Invest in a personal hygiene package that we may always keep with us. Disposable gloves, extra disposable or washable masks, disposable wipes or facial tissue, alcohol-based hand sanitizers, or isopropyl alcohol are the main components. We carry our lunch or snacks to the university with us. For convenience, keep pre-packaged food, bottled drinks, or healthy snacks in your bag. We always hide behind a mask. We sanitize our hands and put on a mask. What should we do now that we've left our home to enroll in university? We follow the crowd and preserve our social distance. We always keep a one-meter or more than three-foot distance between ourselves and others. When entering the university, correctly line up and be aware of the following procedures. We step on the sanitizing footbath mat and use the sanitizing stations at every entry point of university buildings. We choose to fill out the contact tracing form after scanning our temperature. When doing so, we recommend that you use your own pen. We then hand over our paperwork to the person in charge and enter the building. We always follow the guiding arrows affixed to or painted on the floor when taking the steps. These are prevalent throughout the university, and they aid with our simple mobility as we navigate the campus.
Wherever you go, we constantly pay heed to signs. Signs serve as guides and reminders during our time on campus, and they must be always followed. Remember that following these processes not only ensures structured and efficient mobility but also helps to ensure our own and others' safety. We noticed the following in our classrooms: Seats are already pre-arranged at a 1.5-meter distance from one another. Pay heed to the floor and wall advisories and utilize the hand sanitizer or alcohol fountain near our classroom door. When we sit in the classroom, we maintain social distance and always wear our masks. Behind a clear wall, our instructor will teach. We put on our allotted PPE or scrub suits before entering the laboratory.
When we leave, we disinfect our hands and adjust our seats before returning the borrowed resource materials to the librarian behind the barrier. When departing, use the specified exit points and the foot-controlled alcohol and hand sanitizer. The following rules must be always followed in the dining room or canteen. We take turns sitting on each side of the table's clear barrier. We follow the clean-as-you-go philosophy and use a damp wipe or clean tissue to sterilize and clean the table we just used. We always depart on time after our planned classes and place your PPE in a Ziploc or paper bag for sanitation and storage in your allotted locker. We constantly pay attention to signs wherever we go, and we don't stroll out of the building with our peers. Following these measures ensures not only seamless mobility, but also our own and others' safety.