Pride Techniques To Benefit Play And Build Emotional Closeness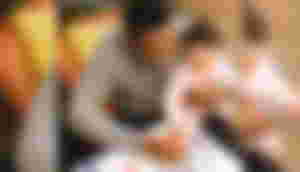 As parents, we want our children to develop optimally and have an emotional attachment to us. Many parents ask how?. The answer, of course, is through play. We already know that playing has many benefits for children. There is a very helpful technique called the pride technique which not only improves their thinking ability. But it can also close the emotional bond between parents and children. With this pride technique, children will be more cooperative. In doing this pride technique it takes a relatively short time (5-10 minutes per day). Today I will summarize 5 techniques that must be applied.
Apply With Labeled Praise

One way of using the pride technique is to praise the child for positive behavior. The meaning of labeled praise is a certain setting, for example, "Your color choice is very good!". It could also be "Smart brother slowly draws the line", "I love you making your lego peacefully". In contrast to compliments that are not labeled, such as "Good", "Smart", "Great". Labeled praise is more effective because children know certain behaviors that their parents like and can improve their behavior. Labeled praise can even increase a child's self-esteem or sense of self-worth.


By Reflection

To reflect means to repeat again and again what the child said. He said, "I used blue crayons". Parents deliberately reflect and say, "Yes, you are wearing blue crayons". By doing this pride technique, he will feel like he is leading an attention game to him that we are listening. Also increases the child's ability to actively speak. It feels strange the first time do it, but it will become natural after a few times.


By Imitation

Imitating means doing the same things a child does, such as drawing a tree while he or she is drawing a tree. Keep in mind, when imitating a child's play, avoid wanting to develop or be better than the child. Just imitate according to the level of his ability. It also helps parents to get used to playing according to their developmental level. And prevent parents from dividing their attention on other things during special time with him. For example, you want to see HP, TV, and others.


With Behavior Description

Explain what is being done with the toy. Suppose the parent says, "Sister is coloring with black crayons", she is making lego, and the parent says, "Sister put down the red lego". Now she almost finished drawing the shape of the sun, then the parent said, "Sister is drawing the sun". This pride technique can teach new concepts and vocabulary. This is especially good for children with ADHD because it helps them plan their behavior (which is usually impulsive). While parents describe the behavior. He will get the message that your parents care about you.


Enjoy

Enjoying means we show a sense of pleasure when spending special time with children. Pleasure can show to parents by showing tone of voice such as liking the activity, laughing, and positive touch. The pride technique is useful for sending a message to him that we enjoy spending time with children. Improved relationships in relationships with children make special times have deep meaning for them.
Well, how? very easy to apply right. So do this special time regularly 5-10 minutes every day. Set an alarm to signal to your child that special time is over. As much as possible do the pride technique regularly every day, so that parents will get used to doing the technique. Of course not only on special occasions but also when interacting with children daily. May be useful.
Image source by Unsplash