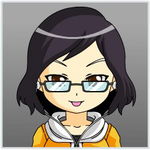 Ah Batman, who knew you could be such an emo kid. 😆 I certainly never pictured Batman that way at all and yet here he is for all the world to see. I knew the film would turn out like so. 😆
Don't worry this is a SPOILER FREE review so feel free to read to your heart's content.
To all the Batman fans out there, did you like the latest movie or no? Personally I don't hate it but the teenyboppers are surely gushing over Batman now. 🙊😆 Am I right?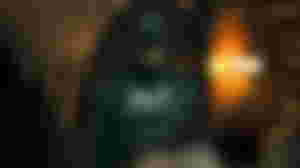 But first, did you know this is the first movie I watched in a theater since the pandemic happened? Awesome right? Haha. Well some of the short online reviews/posts on it by friends made it seem good enough to watch in a movie house.
Yesterday I came back from a property site trip of affordable preselling homes in Pampanga in the morning then ended up in a mall to eat late lunch. Since I was already there I decided to watch a movie afterwards. While watching, my manager called me but it's a good thing the phone volume is low so I never heard it. 😆 Anyway I did text her and such so I won't get bothered while I was enjoying a movie.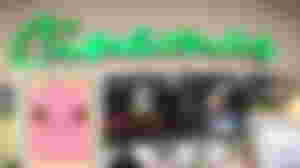 I only missed a few minutes while looking at my phone but still I think the film is just okay. Though watching it was like seeing someone bring the sexy back. Haha.
That Batman walk, oh it gives you the chills indeed. 😂 Finally, Batman is suddenly portrayed as the "future" ladies man that he is? Sorry I don't really think of Batman and superheroes in such a way (except for the self confessed ones like Tony Stark, etc.) but it certainly is evident in this movie.
Makes me wonder if they are trying to widen the appeal of Batman. Are they marketing it to more female viewers now? Let's see... 🤔 I'm hoping there's a second and third movie soon. 😆 It's not bad at all you know.
Have you seen the trailer yet? If not here you go.

Batman as I said is also portrayed as an emo kid. Well not exactly but you know maybe only real emo peeps can relate. 😅 Batman's maturity is truly not there yet as narrated by this Bruce Wayne version.
Choosing Robert Pattinson to be the Batman for this kind of story is indeed the right choice. No one else could have pulled that off afaik. Hahaha. 😂
It's like an emo diary movie, a moment in the life of future superhero Batman. 😆 With great powers come great responsibility indeed. Why? Well it's like this...
When you're in a leadership position (or a celebrity, etc.) people follow what you do. That is the truth whether you like it or not. I have been subject to such before. I was not even in such a high rank at work but people thought just because I did something they could also do the same.
Well what if I was also just following other people who did such who weren't in a leadership position at all? The problem is since a person in a higher rank is of higher status people will notice the things you do. If you do bad and they see you don't get punished for it then they do the same bad thing too. And that's how corruption works mah friends.
(Bureau of Customs [PH] your days are numbered, if only anyone in there would be brave enough to spill the beans and lose all the illegal monetary benefits. Don't know how y'all can still sleep at night doing bad things you know you shouldn't be doing. Oh don't let me get started with the Marcoses too. Good Lord I don't know why they were even allowed back inside the country. We are too kind to abusive people.)
Anyway as I was saying about The Batman... Story and characters are somehow developed enough. Doesn't matter if his love interest has an interesting background story, it still works for the movie. Though I find this Batman version so teenyboppery like he's just in his early 20's when he seems to be around 30ish? 🤔 (It's not R-rated you know. It's no surprise the film is PG-13 or 15 in other countries.)

And the trying so hard to flirt by not flirting kind of thing. 😂 Goodness gracious my dear Batman. 😆 I guess every supposed playboy starts somewhere huh. I mean that Batman-Wonder Woman flirting was great (Ben Affleck & Gal Gadot) but this version is just... cute. 😆😁
For sure the teenyboppers are gushing over Batman now. Or maybe the Twilight fans too. 😏 Oh well, so much for the BatCat love story...
As for the overall look, it was literally too dark for me. I prefer the Christopher Nolan Batman movie version of cinematography. To be fair, the city and silhouette shots look great. I also love the mansion that feels like a disregarded castle people just stay in. The oldness of the "house" is so evident in it's structure that I wonder, is there no decent housekeeping in there? 🤔 No offense to Alfred but it looks like he needs more help. 😆
I would expect a wealthy man's place to be entirely well kept but it's so cluttered like Bruce Wayne is depressed or something. (Well he is emo so okay...) And then Catwoman (Zoe Kravitz) appears and we finally see some electricity and excitement in his life. Hahaha.
Okay I might come off as maligning the film but hey it's decent enough. If you like to experience their flirty vibes while watching then go ahead and enjoy it too. 😁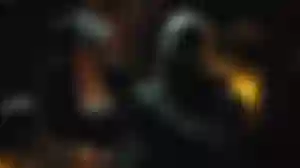 The best part of it all is the villain, again. Somehow it seems like the bad guy (Riddler by Paul Dano) is the star of the movie. Pretty good performance by the actor indeed. 👍👍👍 Just goes to show how looks can be deceiving. The caster's choice of actor made the role unnerving to be honest. Pretty good way to make a comic book villain so real.
On that note, somehow I just realized it seems like most of Batman's adversaries are crazy people? Well they always get thrown into Arkham Asylum instead of jail right? What gives??? 🤔
As for the music/soundtrack, well it's not too iconic like other movie music themes. The (supposed to be) theme music kinda sounds like another popular one (cough * Star Wars * cough). There's something about it that's not quite there...
At this point Nirvana's Something In The Way is the only iconic music thing for The Batman.
I've never heard of that song until the trailer came out. Am not a fan obviously. 😅
So anyway The Batman was fun to watch even if it was 3 hours long. It's well paced and not boring at all! Didn't seem like it was that long. Now that's what I call great storytelling and editing. 👍👍👍
Oh one more thing... Since I didn't read much about this movie and the cast, I am super blown away to discover who played the Penguin's character! Whoaaaa. I'm watching interviews on YouTube and I was like, he's the Penguin actor? Oh wooow. 😱😱😱
And with all that, if I'd rate The Batman, I'd probably give it a 7/10. But because of the acting and visuals let me just give you a breakdown like I usually do in my more streamlined film reviews:
Characters & Story: 7

Acting: 8

Cinematography, Production Design & Music: 7

Well there you have it. The overall movie rating is really 7/10. 😆
What about you? Have you seen it too and do you like it? If you haven't watched it yet then what are you waiting for? 😊
XOXO,
* * *
All images (except the cinemas photo which is mine) are owned by Warner Bros. and/or creators of The Batman movie.
Not a member of read.cash yet? Come join us! Let's microblog on noise.cash too!
Sponsors of LucyStephanie