Is It Called Bravery?
In this ever changing world we live in, sometimes being brave is the only option to make it through another day. Brave in facing all the trials each day and being brave in handling circumstances that will come in your way. But what if by that act of being brave, people made you feel indifferent and people close to your heart made barriers and gaps? Will you still continue to be brave or be a coward to fit in their demands?
I still vividly remember that one sunny afternoon. I don't have class that time as it's summer already. I'm gonna be in my senior year in high school in the opening of classes that time. I'm a homebody person, so literally the whole summer, I only stayed at home watching movies or sleeping. By that time, we live near by the beach. With a house in all fours as the soil under it is made of mud for the reason when the high tide comes, the seawater reaches our respective homes. We're renting a house that time as my father also started getting irresponsible and we ended up in that place. The back of the house had a waist length pool of seawater as it was a vacant lot. We had a neighbor with an 11 months old baby we call Rose. We had a huge window that you can just jump out of it if you want to dive in the mud like pool. But it's not advisable for me as there were many cut mangrove trees that can scratch your skin aside from the stink smell from the mud. I was reading a book when I heard a splash behind. I quickly peeked on our window and saw baby Rose drowning in the mud pool. They're pool is a bit deep than ours reaching in my shoulder length till my ears. Without no hesitation, I jumped from our window and quickly swam towards her. She was in the deep part that I just held a near branch of a mangrove and grabbed her out from there as we will be both be getting drowned as I don't know how to swim. I clearly saw how many times she drunk the mud pool and slowly drowning, luckily I grabbed her just in time I cannot see her hand flapping. I immediately went to a safe place and handed her to her crying mother. There was a hole fitted for Rose's body in the corner of their house that when she crawled towards it, she just fell in. Her mother was busy cooking and her 6 years old sister didn't noticed her reaching the hole.

The adrenaline I felt from the moment I jumped in the mud pool from me saving Rose from grave danger made me insensitive of the scratches I had in my whole legs and feet. Yet I am very proud of doing that deed as I saved someone in danger.
She was safe and got no complications when they went to a doctor. But my mother nagged and got angry as we didn't heard any thanks from the family after that. I don't really mind though as I did it out of my concern for the baby but looking back, I never heard any thank you for saving their daughter. Maybe, shock on the scene but after it, they still didn't made any thanks. Well, I remembered that were not in good terms with their family so maybe they're shy in saying it? Hehe, memories from it makes me feel like I'm a living wonder woman that time. Thankful to God I had experienced that.
Our family really don't get along way back before when I'm in my second year in high school. We had a bakery business and a bit well off that time but I'm always irritated with my two older sisters about how they treat my father. My father is not their biological father that's why they don't have that much respect about him. I don't know their reason but as a mere young girl that time I always bicker with them when they talked back hurtful words to papa. There's this one day, I got really pissed and stood up for papa as he will just go silent hearing those hurtful words from them, that I really shout these hurtful words also. "Why are you like that to papa. Remember, sampid lang kayo!"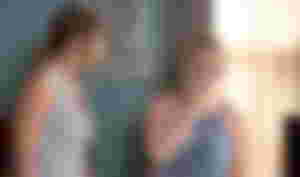 A strong hard slap was what I got from our eldest. With tears, my second ate said, "sampid pala ah", and that made them leave the house after they graduated high school. I regretted my choice of words after the incident but I never said sorry as I believed they have faults too. I was really stubborn that I never got the chance to say sorry even if I wanted to. Maybe it started there, where we never got completed again. Up until now, my bravery made me punished myself as I believed I made it worse for my family. Even now, there's still a gap in my ate's relationship with me and my younger brothers. A bravery I once been proud of but regretting until the present.
Bravery is an act or character of being courageous. We have that character in us depending on situations we're into. If given the chance to being brave, don't hesitate to do it as long as you know your stand. Be courageous everyday.
Thank you to my sponsors from the bottom of my cute heart. Check their works too and you'll not regret reading it. ☺️
Post Note
Hey there lovies,
Hello, hello. Once again its been days since my last writing. How are you? If you ask me, I'm fine and a very busy one at that. To anyone who stumbles to read in my ramblings, thank you so much. See you in my next article. 👋
Cheering you always,
LuaDesamor 😉
©️ All rights reserved. LuaDesamor2022
All image are from Google.
March 30, 2022 | 21:40 PH time