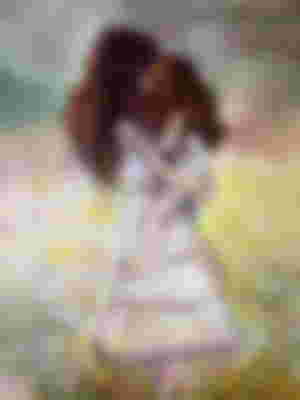 I grew up in the province with my father and siblings. We stayed there until I was six years old. My mom works in Manila while we stay in Bicol. When I was six years old, we moved to another place in Rizal. She was there with us for a while until we moved in Manila where we are currently residing until now.
Since I was a kid, I have witnessed my mom working hard to provide for our family. I have 5 brothers, two sisters and me. She gave birth to us 8 siblings. It's not easy to provide for a huge family. We were studying and eating. We also have different needs like food, clothes, vitamin, and so on.
We had a small family business when I was in elementary. She and my papa worked together in that business. They always make sure that all our needs are provided. We don't often see them at home because they focused on the business. They just go home to take a bath then leave afterwards. I have my older siblings to look after us. We are not rich that's why they need to work 24/7 so we won't starve.
I can't help but get emotional whenever I think about her and tell people about her. She is so dear to me. She is my number one supporter. She leads and guides me every step of the way. She is just so amazing.
As I was growing up, I was sickly. We needed money for my medications and constant doctor consultation. She was always with me throughout the whole journey. Even when I get easily irritated, I get angry or I just don't know how to feel anymore, she was there constantly understanding me and making me feel how much she loves me.
When I was a first year high school student, I was diagnosed with an unknown disease. The doctor even told my mom that I'll die young because my medications are not working. Instead of getting better, I am getting worst. I always have pierced skin for my laboratory tests. She didn't mind about the money she's going to spend just to see me healed and healthy.
She got mad at the doctor for telling her that I'll die, "He is not God to know and tell me until when you're going to live. We are not going back to Him. I'll buy you nutritious foods and vitamins. So you take a rest and be healthy."
We did not go back to the doctor again. 1 month has passed until the doctor saw me and he was shocked that I'm still alive. I remember having low grades for my absentism. I'm just so glad for my teachers for understanding my situation. I almost stopped studying that time as well. Even when my mom has seen my grades she wasn't angry. She was just glad that I am still alive and healthily living with them.
When I've gotten better, my mom told me her point of view of what has happened to me. "I went to a church and prayed for you. I told God that if He's going to get you from us, I Iasked Him to do so. I don't want you to suffer anymore. I can't stand seeing you slowly losing life."
Right then and there I didn't feel anything because even I, felt as though I don't have enough days to live. As I imagine the pain of a mother surrendering her child to God, I can't help but cry. If it's painful for me, how much for her. She, who carried me in her womb for 9 months, gave birth to me and watched me grow.
Her love did not end there. She was too kind that even I can't help but wonder as to how she was able to give her heart some more. She loves helping people. I remember when I was young, there were many people whom she allowed to live with us, whether it's a relative, or a complete stranger.
She has the heart of helping anyone in need. When I asked her about it she told me this, "I know how it felt like. Having nowhere to go and no one to turn to. I can relate to them. I met them because God wants me to help them."
Even when we don't have money, she gives them what we have. We have a home, so she helps them find shelter. We have food to eat, so she shares our blessing to them. She always help. She was too kind and generous that whenever someone knocks on our door to ask for help, she willingly gives.
She makes sure that she is there when we need her. When I was young, I actually felt sad that she is not present in most of my school presentations. I felt jealous with my friends who has their both parents during recognition even when they don't receive any award. Unlike me who has a ribbon but I don't have a family member to pin it to me.
I graduated both in Elementary and High School that she isn't with me. Even when I get my card at school I am always by myself. The teachers kept asking me for her presence but to no avail. She was never there. We had a moment of closure. I told her all those things and she answered, "If I go with you for a day or even for an hour, I can't guarantee you that we will have food at the table. I always wanted to be with you but I can't. Every parent would want to be there for their child during their special days but I need to work because I need to provide for your needs. I can't get that amount of money if I don't work."
I felt ashamed with myself for being immature. I was unable to understand my mom and became selfish for thinking about myself and my own feelings while my mom thinks about the welfare of the whole family. I regretted confronting her about the past. I was too narrow minded that time. But after all those things, she was never angry. She is always the understanding person that I know.
My mom, being the kind person she is understands and loves me the same. My respect for her grew even more. Whatever I felt are all useless because it's nothing compared to what she does. My feelings are centered to myself, while she pours her whole heart for us.
I wanted to shower her with everything that I can offer because she deserves it. All her life she has dedicated her life serving and providing for us. Now that I have the ability to spoil her, I'll do what I can to serve and help her.
Even when she is 54 years old she still works. Her job doesn't end with her going home because she still takes care of us. When I told her to quit her job and stay at home she tells me, "I'll get sick when I stop working because I'm used to it."
It makes me sad that she can't even rest the way she deserve. She is the light of our home and we can never be who we are without her. She also has shortcomings but it's nothing compared to her never ending love and support for the whole family.
She is a mom, a wife, a sister, a grandma, a friend, a mother-in-law and so much more. She is a true superwoman. She does the housechores, she cooks, she always does so much more.
She always give us advices. When I graduated in college she told me, "I never wanted you to live the same life I lived. I want you to become successful and do what you want in life."
She never expected me to help them financially. Everything is up to me. She never even pressured me about anything. As I looked for a job, her constant support and encouragement is with me.
When I started working she told me, "We did not support you in your studies, just so you can help the family. We supported you because it's our role as your parents."
I once have a heart to heart conversation with my mom. I asked her if she's proud of me, and she said, "What kind of question is that? Of course I am always proud of you, I am always proud of your siblings as well."
Now that I am unemployed she treats and loves me the same. When I told her that I am tired from all my job applications and I felt like the stress is too much, she told me, "It's ok. You don't need to rush. Don't put too much pressure to yourself. No one asks you to work right at this moment. Your time will come. It might not be today, or tomorrow but it will surely come in God's time."
Even until now as a young professional my mother knows me. She knows me all too well. She knows how I feel. She knows what I want. She knows if I'm sick or in pain. I'm forever her princess. Even when there are times that I don't tell her anything, she perfectly knows what I'm going through. No matter how I age or how I look, I am forever loved because I have her.
If not for her, I would have been discouraged and I would have given up from too much confusion and problems long ago.
I can never thank her enough for all she has done. I can never comprehend how her heart continuously beat in kindness. I can never measure her love for us. I can never imagine the pain, sufferings and battles she fought without us seeing it. She was always there for us, so I want to be with her as well.
I guess I can never truly understand a mother not until I became one myself. Her commitment into loving and providing for the family is never ending. If I felt that I would want to run away and never look back, how much more is a mother of 8 who has been working since my eldest brother was born? But she was tough and courageous enough not to give up and leave all her responsibilities behind.
She is the most beautiful woman in my eyes. She is the warmest person I've ever known. She is the most selfless person to me. She is a queen is and my mama.
Love_16
November 26, 2020
Thursday