(The Library: Article)
This article continues where part I left off. I have compiled a list of famous and iconic castles and present this list right here. It is ordered chronologically. In part I, you can find information which is more general about the various parts of castles, such as the moat, the bailey, the machicolations, the keep. If you missed it, go check it out. Also, please don't hesitate to comment below letting me know if I missed any and/or which one is your favourite.
When I was a kid, there was no Internet! To see castles, you either had to travel there or you had to find books. And those books were somewhat rare (the good ones) in public libraries. As a reminder and as I have written about in the first part, castles evolve throughout their lives. They often begin with just a Motte and Bailey. Later, fortifications are added, such as towers, a keep, the outer bailey, the gate, etc. This image(1) illustrates some of that evolution: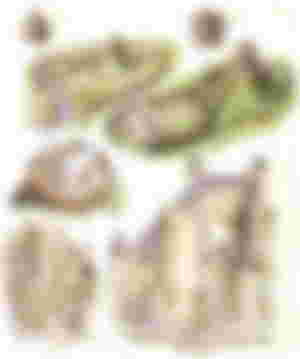 Since the previous article observed the construction of the "perfect" castle and also described the various parts, I did not include other existing real-world elements. Too late did I realise that I had not mentioned the walls of Babylon. While not a castle per say, it's walls clearly fit in the category of fortifications and I would be remiss if I did not mention and show them here. From a chronological standpoint, they are nearly 4000 years older than the first castle from part I. Image source (2)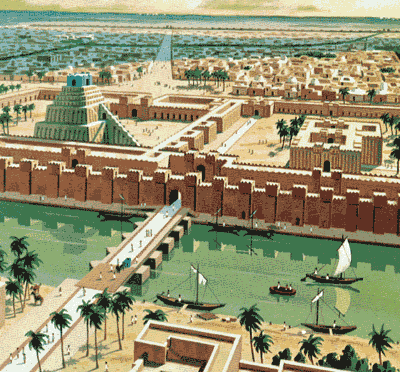 If you have further interest in learning about the Wonders of Antiquity, I have also written an article on that subject, for which I found fantastic illustrations which animates their construction. The Hanging Gardens of Babylon is one of those Wonders. With those fortifications now destroyed, let us return to existing ruins and renovated castles.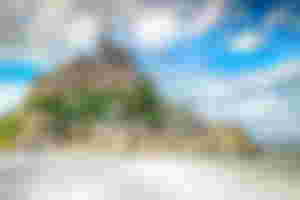 It can be difficult to find more representative of an artificial mountain as Mont St-Michel. Built on a small rocky island, sticking out of the sea like that of a volcano, the fortifications that surround it, as visible in the image above, as well as the towers make it a good example of a castle.
Renown all over the world and somewhat copied by others (such as the Jilong hotel, which we be illustrated later), it is one of the UNESCO World Heritage Sites.
Like all others, it has evolved during its life, and it could have made it to part I of my article. However, I chose to leave it here, classified as 11th century. Note that the hill housed buildings as early as 460 A.D. and probably before that. Here is an illustration of its evolution(3):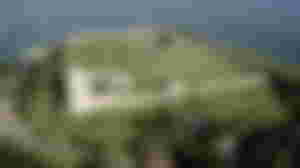 I have attributed the construction of this castle to the 11th century but it has been built around a Roman fortification(4). It is important to remember that the Romans were in England where they retreated in the 5th Century. It would be another 500 years before the current keep, as visible above, would be built.
The "D"-shaped towers were typical of Roman architecture and their construction is believed to have been made by  Marcus Aurelius Carausius. Another famous character often involved with castles is William the Conqueror. Many castles in part I of my article were built (or conquered) by that man. Portchester is no exception.
Notice the overall square shape of the castle and the (mostly) square geometry of the inner bailey and the keep.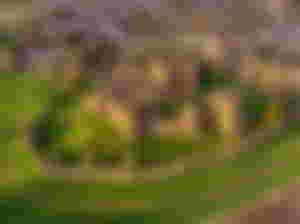 Kenilworth Castle was built over the span of multiple centuries, as many others. The construction techniques of the time necessitated manual and animal labour and also finances. This particular one, still in ruins, was built around a strong Norman tower fortification.
Again, as with many other examples, the castle is a living testament to the rich medieval history of England. It was established during the Norman invasion of England. Also, it has been the palace of multiple kings and is also part of a few castles that are categorised as "water-castles", which means that a principal means of defence was the presence of water on the site, even if this water is no more present. Another similar example of a water castle, which shall be illustrated later, is Bodiam Castle. Also you can find the Caerphilly castle (see below), another great example of using water to defend. I am adding another image to illustrate this "water-castle" concept.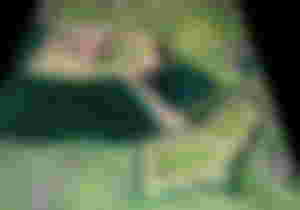 What is interesting (on top of its rich history), is to notice how far removed the Barbican and outer Gatehouse are located from the inner Bailey. See this part of my article for definitions of those parts. While Kenilworth will probably not be your favourite, there is a ton of history surrounding it and I invite readers who want to learn more to seek additional information about this one.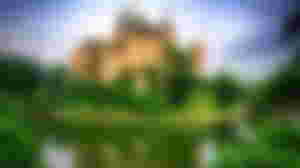 For most of the images in my articles, I have attempted to find some where the vegetation is lush and green. If you scroll up or down, you will that the grass grows green around those castles. Possibly the soil was enriched by the blood of men who died trying to siege and conquer those fortresses.
Water defences are also very often present but not always. For instance, the Krak des Chevaliers, in Syria, has absolutely no water surrounding it.
Bojnice Castle is majestic in its appearance, which has Romanesque, Gothic and Renaissance elements to its architecture. It is very popular in Slovakia and multiple movies were filmed in that location including The Cave of the Golden Rose (La Grotta della Rosa d'Oro).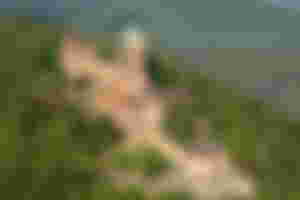 This castle is again built on a rocky promontory called the Buntsandstein cliff. The name Koenisbourg means "King's Castle" (from Kinzburg). It's architecture is interesting given the angles used and the given the shapes of its many towers. We can see some square towers and some "D" shaped towers.
Located close to it and just below is the ruins of the Oedenbourg Castle, also known as Petit-Koenigsbourg (Small Koenigsbour) which was built in the middle of the 13th century. Another interesting fact is that this castle has a twin copy in Malaysia, where a billionaire had a copy built. With modern construction techniques, building a castle nowadays is not that difficult.
The Eltz castle belongs to the Eltz family who still owns it today, after 33 generations. It is located in a picturesque location, like many other castles. It is small but makes up for its small size by having never been destroyed and combining architectural styles from the Romanesque and Baroque periods. Platteltz is the name of the Romanesque keep, which is also the oldest part of the castle. It began as a simple manor which was built in the 9th century.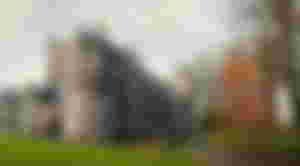 Kilkenny castle has interesting architecture and is not built on a hill or with water defences as seen in previous castles. However, it stands near a fording point in the River Nore and also at a strategic point where multiple roads met. The castle relied on a massive ditch and was built upon an existing wooden structure and was further built by the Anglo-Normans with four towers, one on each corner of the square structure.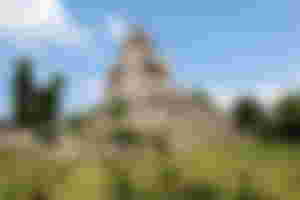 It remains uncertain if the tall tower was built by Jules Caesar or if it took its name from the representation of power given by the name Caesar. The large tower was originally uncovered and the construction was used as a lookout tower, as a prison and as a house.
Castles offer multiple geometric shapes and it can be seen in the image above that the main tower is octagonal, while the surrounding keep has a square shape while the four towers on the corners are circular.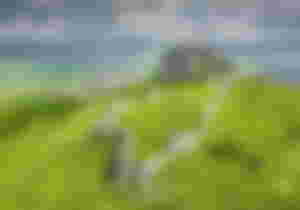 Another beautiful castle from Slovakia, this castle was built upon another castle. It is one of the largest from central Europe(5). Like its sibling from the same nation, Bojnice castle, seen above, it combines architectural features from the Romanesque era as well as gothic elements. Today it stands in ruins but some parts have been renovated and are used as a museum for tourists.
Perched atop Castle Rock, a naturally defensible position, the Edinburgh Castle was built around existing fortifications. The earliest presence of humans on the hill goes back to the Iron Age. But the castle itself only took shape during the 12th Century.
It is a very important piece of architecture in Scotland and has been central to the Scottish Wars of Independence (6). It is said to have sustained no less than 26 sieges! It has been claimed as "the most besieged place in Great Britain and one of the most attacked in the world" (Caldwell, pp.20–24).
Much can be said about it and like for many other castles presented here, I suggest you visit the castle. I can only barely touch on everything they have to offer. Their rich history, architecture, artistry and the details of their features are well beyond the scope of my overlook into those wonders.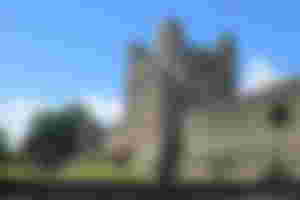 I know that I repeat myself but again, such important buildings are the very fabric of the land. The usual suspects are involved; William the Conqueror, Bishops, The Rochester Cathedral, the Church, Kings, Knights and the vassals and peasants without whom the castle could never have been built.
We are lucky to live in modern times and to be able to seen those castles and learn about them so easily from the comfort of our homes, far away, without the smell of medieval life. With the movement of a wrist and with a click from a finger, we discover the rich history and the evolution of those Royal houses.
It also serves as a reminder that no matter the strength of your walls, human ingenuity is never to be overlooked; During the reign of King John, a mine was dug under the tower to breach the castle. Then, pigs were sent in the tunnels to put the support beams on fire and to collapse the tunnels! Such rich history to discover.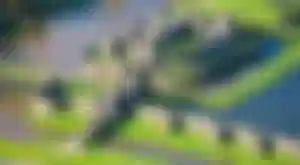 With impressive fortifications and large water defences, it has been called "the most elaborate water defences in all Britain". It also stands second only to Windsor castle in terms of its size. The lakes surrounding it are artificial and the dams were also fortified. It is said that the architect, Gilbert, was probably inspired by Kenilworth Castle (see above). In turn, Caerphilly probably inspired Eward I's castles in North Wales.
The concept of concentric castle defences are clearly visible here, with multiple layers of walls around the inner Keep. This concept was thus introduced to Britain with this castle. I admire how intricate the entrance was guarded with tall gatehouses and towers covering all approaches.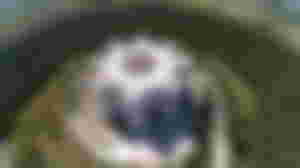 Castle del Monte means Castle of the Mountain in Italian. It is known as a castle but fits better with the definition of a Citadel: The fortified core part of a city. It is not particularly large and is devoid of many features seen previously, such a moat, a gatehouse, an outer bailey, etc. For details about these terms, please refer to part I of this article.
Enciclopedia Italiana describes it as "the most fascinating castle built by Frederick II". It is also a protected World Heritage Site.
This beautiful castle is unique in its architectural style. Obviously, as is visible above, the uniqueness came from the octagonal shape of the main structure, coupled with eight octagonal towers on each of its vertices.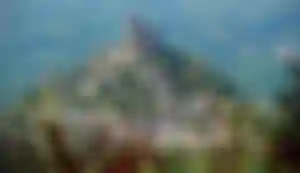 This medieval castle includes a secret corridor, between the chapel of the keep to the Romanesque (semi-circular architecture) tower. The gate of this castle is protected by a barbican (see part I for the definiton) and some of the murder holes are 6.8 meters in height, which is a world record. This allowed up to 3 archers to fire simultaneously at enemy targets. (7)

Up next is the next part of this multi-part series (see part I), where I continue to look at Castles and Fortifications, in a chronological order. As I mentioned before, I had no choice but to split the article to prevent it from becoming too enormous. I previously published my Encyclopaedia Draconnica and because of the weight of dragons and the size of their lairs, it was probably too large to gather much interest! Stay tuned for more and check out my generous sponsors, visible at the bottom of this article. Thanks for reading.