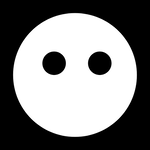 If you haven't heard yet the famous tag line of the Philippines then let me say it to you, "It's more fun in the Philippines!" This tagline of our country is very popular because of unique and beautiful sceneries that you will see on different places in the Philippines. 

Today, let me tour you on one of the most visited place in Talim Island called Mt. Tagapo.

Some of the residents called this mount as Susong Dalaga (Maiden's breast) because it looks like a woman's breast when you are riding on the boat. Mt. Tagapo is surrounded of water or lake also known as Laguna de bay, the largest lake on the Philippines. Some people also said that it is inactive volcano. Also, when you reached the peak of this mountain, you will see a deep hole on it and you will see it on this article. Now, let me tour you on Mt. Tagapo and read my experience on our hiking. 

We started to walk going to the way of Mt. Tagapo at 5:20am (PH time) so we can go there as soon as possible and witness the sunrise. Since the time was too early, I managed to capture this photo.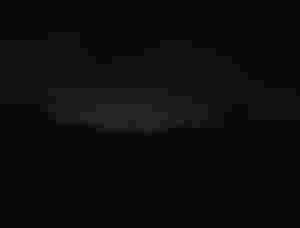 I posted this photo in noisecash, I really love it. The moon is beautiful isn't it? The way going to Mt. Tagapo is nearly as what you think. We only need to pass on one barangay before we arrive. The estimated time when we reach the starting point is 5:50am. We are only 11 individual, 7 girls and 4 boys (including me). 

At first, my friends are saying that they are already tired even though we only walked for a short period of time but since we are walking on a slope, it is consuming more energy than normal walking.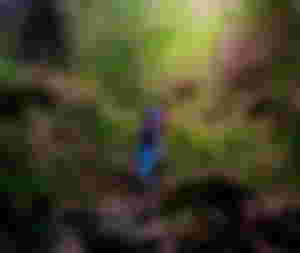 It's not hard to hike on this mountain because the path is most likely renovated for the sake of mountaineers since there's a lot of visitors going here to go on this mountain. Our group decided not to ask a tour guide because we also need to pay for it so we decided to go there, only us. I have this one classmate who claimed that he knew the direction so we trusted him. 

As the time goes by, we noticed that there are bamboos on the way and we used it as the "path" to follow because we do believe that it is pointing the correct direction. I forget to capture it. 

Unfortunately, we saw a two way where we don't know what's the correct direction.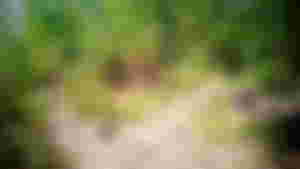 We had an argument (not a fight) on what are we going to follow but since we saw a bamboo on the right side (on a surface) we decided to go there. Also, our classmate who claimed that he knew the way said that we are going on the right path so we went on the right direction. Time goes by, there's another two way direction and one of my friend said "Always right", it means that we need to go on the right direction instead of the left one so we choose it over the latter. Well, we laughed at her when she said "Always right".

Things became worse and we felt that we are passing the wrong way even though there's a bamboo on its surface (road), we realized that it is not the correct way. The place looks like an open area and it is a dead end for us because it is surrounded by trees and plants, there's no way anymore so we laughed on our dumbness and decided to go back. 

We walked for too long to go back on the first "two way" direction and choose the left one. We had a long yet funny arguments on what's the correct path and we decided to go on the left.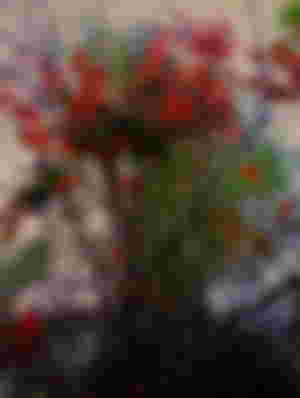 Then worse became worst when we reached the end of the left way but one of my friends said "Let's go here, it is the correct way" we know that we are passing the wrong way but since we already walked for too long, we decided to continue what we started. We climbed on the trunk of the plants to support our weight. Some of my friends were slipped on the surface and we laughed because of our foolishness. 

We laughed harder when we realized that we climbed on those trunks and went down again but on the other direction. It looks like we are challenging ourselves. Well, it has a good outcome because after the climbing, we saw the correct path and we are sure this time. We smiled to each other when we saw it and still laughing because of our stupidity.

Well, we called it as an "Unforgettable moment" and as an adventurous but fun memories. We also passed a lot of bamboo tunnels on our way and it was cool!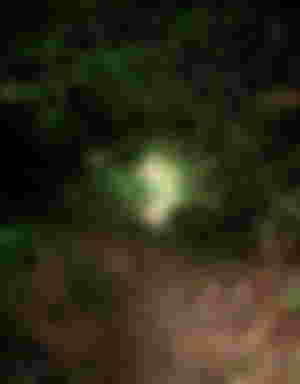 Since we are passing the correct way, we keep motivated and walk as fast as we can so we will reach the peak as soon as possible. At last, our efforts weren't in vain. We reached our destination at exactly 8:05 am. We took almost 3 ½ hours to reach it but it should be only 1-2 hours if we didn't passed the wrong direction. 

We stayed on the nipa hut to take some rest before going on the peak. When you reached the peak, you can't say that you lose an effort for it because it is really worth it.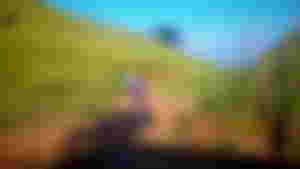 Here's the view when you are on the nipa hut, you need to walk again before reaching the peak.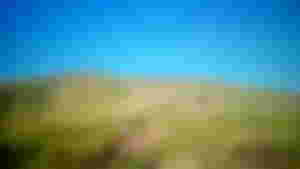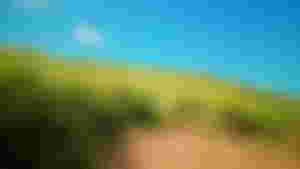 We ate our breakfast before going to the peak so we can stay on it longer. Between 9:00-10:00 am, we decided to go there and it is exciting because of the strong winds. By the way, we need to be careful on walking because it has a lot of grass, a razor blade grass dancing on the wind. It is satisfying to watch especially when you are on the nipa hut, it is a dancing grass and it looks like waving because of the wind.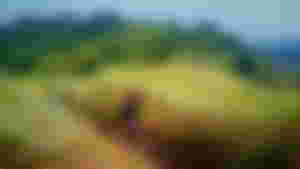 We are going on the peak that time. I'm on the first on the line taking pictures of beautiful scenery.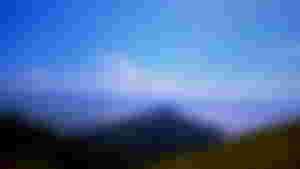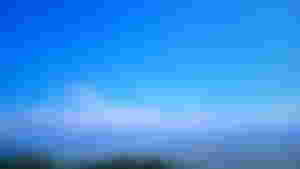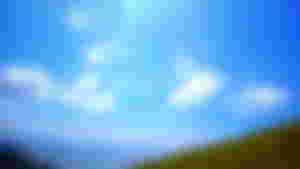 Finally! We reached the peak! It was satisfying view and your effort is worth it. I enjoyed the 360° view.
Here's the deep hole that I am saying. It is deeper than what you think.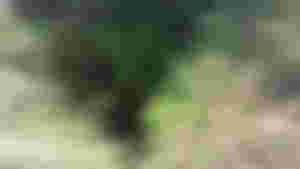 Commonly, picture taking is always there. We even took a tiktok videos and had a picture with my friends.
Unfortunately, I can't share it here because I don't have a permission to put their faces here.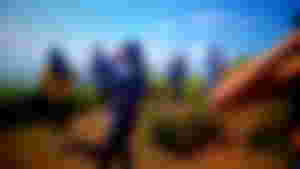 We decided to go home at 12:46pm and arrived on the foot of the mountain at exactly 1:36pm.
Closing thoughts
Our experience is one of the unforgettable moments in our life and I think that in the future, if we will have a reunion maybe it will always be our topic. Friends are always your second family. They are always on your side no matter what. Always remember that "No man is an island". We need a friend on our life. The real ones and will never stab you in the back. 
All photos are captured and edited by me.