Industrial Tour to Cement Industry and visit to Famous Mosque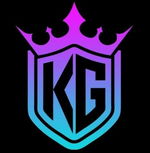 22 October 2022
August 6 was my birthday. My partner gets busy making various plans and programs ahead of my birthday. My partner is always serious about celebrating my birthday. She is always ready to do anything to make me happy.
But last August 6 was a different birthday for me. That day was an industrial tour from my department. It is linked to our academic semester i.e this tour is compulsory for all students of our batch.
So I couldn't cancel the tour. On the other hand, my partner was breaking down mentally after hearing this news. Because this day was reserved only for her, now all his plans are going to be canceled! She didn't expect this day to be like this.
However, that day I woke up at 6 am. Then I left for the university as a fresher. Because our tour buses were located on the university campus. Our destination was to visit "Shun Shing Cement Industry Limited and it's the brand name "Seven Ring Cement" in a neighboring division (Khulna division). Then we were all sitting in our seats in the student bus and 2 sirs were with us and they gave us directions.
Then the bus left the campus at 8 am. On the bus, all our friends were having a lot of fun and dancing to the DJ music.
After 2 hours we reached the cement industry. There were some trainers. They gave us a complete industry visit. Then we had a class of 1 hour and 20 minutes on the manufacturing process and all infrastructure of cement in the industry. We learned a lot. Where understanding was difficult, we answered our questions and gathered all the information. The trainer was very nice and friendly. In his lecture, We had a strong impression of cement. This was very necessary for us as we are students in the chemistry department.
We were in the industry for 4 hours. We took a group photo with our sir before leaving the industry. All students were not in this picture, here we were few.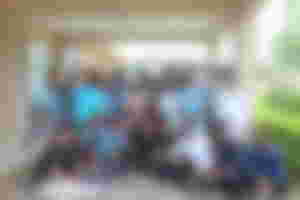 The famous 60-dome mosque of our country is located in the Bagerhat district of Khulna. Why is it called 60 Dome Mosque? Because there are 60 domes on the roof of this mosque, which is the largest number of domed mosques in our country.
Our sir suggested visiting this mosque. Because we still had enough time. We all agreed to the proposal of the student sir.
It took us a maximum of 30 minutes to reach there. We entered the boundary of the mosque and first visited the museum. The founder of the mosque "Khan Jahan Ali" was a famous person. All the items and war tools used by him were very well preserved in this museum.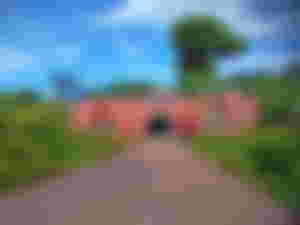 Then we visited the mosque and collected the necessary information in the notebook. Before heading back from there, we took some more group photos with all the student sirs to remember the time.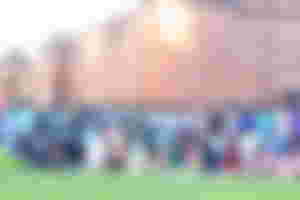 The evening was approaching. We then took our respective seats on the bus and headed back to the bus.
All in all the day was beautiful and a day to remember. Every moment was beautiful. I had no shortage of birthday fun. Only then I was missing my partner badly.
Thank you!