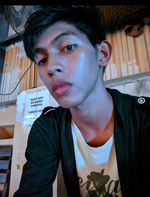 September 29, 2021
I've read a lot of near to death experiences from distinguish authors here in read.cash, and it urges me to write and share my own close call encounters too, which leaves me and my elder brother huge trauma, and somehow taught me a significant lesson.
Before anything else, I am deeply grateful to those kind and awesome writers who gave me a warm welcome. I also appreciate those who commented and upvoted my recent article. It drives me to keep on going and it really inspires me to start my journey here in this amazing platform.
_____________________________
4 years ago, I was involved in a motorcycle accident with my elder brother. Before it happened, my mother told us to do the household chores, we washed all the dishes and cleaned the entire house. After a short break, my mom ordered us to buy some groceries in the local market. I noticed that my elder brother was whining and wearing a grumpy face. I don't know why but maybe he was just too exhausted or his laziness hits him. I just ignored him because he acts that way most of the time.
My brother was melancholic, he has poor social skills, and prefers to be alone at some point. He is also a straightforward guy and has trust issues. Despite of those traits, he is a man of faith and a good son.
On that moment, I let him drive to lighten up his mood. He got elated and began driving, and in the middle of the ride, a rider overtakes us in a harsh speed, and suddenly triggered my brother's ego. Unhesitatingly, he throttle up the motorcycle so fast to catch up with the rider and surprisingly we did overtaken him. As we continue racing in a speed of 140 kph (kilometer per hour), a car suddenly overtake from the opposite lane and occupied our lane it almost hit us, but luckily we evaded the rushing car and immediately switched lane. We still continue the race fearlessly, even we're almost caught by accident.
In a long road of racing, we are finally almost in our destination, but unfortunately someone just crossed in the school zone without looking carefully on the road. We did everything and very best to minimize the speed just not to hit the poor person, but squeezing the brakes fully, makes our motorcycle dance in force and trumpled many times. The both of us floats in the air, and our head and face hits first on the asphalt road's surface without wearing helmet, makes our body filled with wounds. I keep on blaming him for what happened but he didn't answer any single word.
Despite of that accident, I can still testify the goodness of God in both of our lives. Even though we hit the ground with our face and head we did not get any wounds from those vital parts and it is already a wonderful miracle of God upon us. By God's grace we gained a rightful lesson to lessen our pride and value the essence of humility.
I believe we're not the one who escaped the inevitable reality of death, perhaps, it is God's best way to enlighten us that our life should not be taken for granted, for we only LIVE ONCE.
Thanks for dropping by, hope you enjoyed reading this.
Lead image from google.com