Money laundering as a way of life.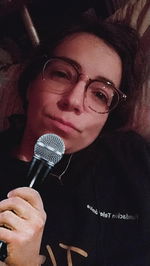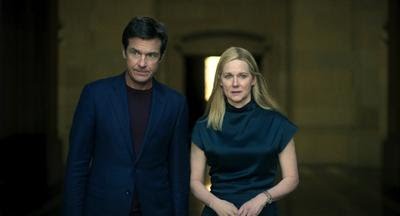 This serie premiered in 2017 with Jason Bateman (Marty Byrde) and Laura Linney (Wendy Byrde) as the main characters, and the series has just released the first part of the fourth and final season. The plot of Ozark shows us a financial analyst, husband and father living in Chicago, who unexpectedly ends up serving a drug cartel. From there, after moving to the town of Ozark, Missouri, he will involve the whole family in his business dealings and scandals in the town.
Ozark is a serie where they show a "typical" life of a family, which ends up laundering money for a powerful cartel in Mexico, which also has enemies within the same town. What is most striking, apart from the obscure activities of its characters, is that most of them never leave their daily lives. The protagonist Marty (Jason Bateman) may launder hundreds of millions of dollars in drugs, but he still drives a normal vehicle, and lives in a very simple house, with his children and wife, who also leads a normal life, as a "housewife" who prepares breakfast, makes a delicious dinner, helps the children with their homework, and who, as time goes by, becomes involved in her husband's "work".
Marty ends up becoming a kind of financial genius that, under the four walls of the house. The irony is that although they lead a seemingly normal life, even Marty's young son ends up involved in the money laundering business. Jonah Byrde, in this last season started his own "business" in which he is laundering millions of dollars.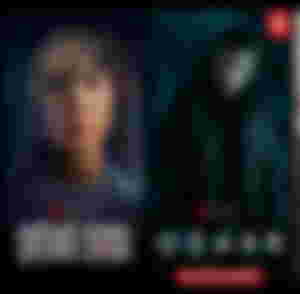 Photo captured from my personal phone.
Is not only about drug dealers and the millions of dirty business in town, but here the law, represented by the FBI, tries at all costs to find the dreaded drug tycoon Omar Navarro (Felix Solis), convincing Marty to help them make some deal with the cartel boss, and after that, Marty Byrde will become a kind of double agent, serving Capo Navarro, but at the same time dictating all his plans and moves to the FBI people Maya Miller.
In the first season you notice a more determined and strong Marty, and in the second and third season, Marty is losing focus, and they go out to rescue the family business, his wife, and even his children, and in this last season, Marty Byrde goes from making ingenious financial strategies to become a simple puppet that directs missions for Navarro, and in turn for the FBI. Losing a little of his great strength.
We add that now appears Javi (Poncho Herrera) Omar Navarro's nephew, who tries to dominate the business, getting them in trouble with other traffickers, killing many of those who hindered them and changing all the plans, thus endangering the entire business and the entire family of Navarro and Marty.
It remains to see the second part of this last season, which has turned out to be more drama than action, and a bit insipid for me, comparing it to the first seasons. I hope you will leave me your opinion if you have already seen it, and if not, I recommend you take the opportunity to watch it, now that you can have a marathon.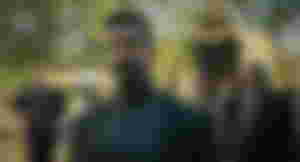 Mexican Alfonso Herrera (Photo: Netflix)
---
El blanqueo de capitales como forma de vida
Esta serie se estrenó en 2017 con Jason Bateman (Marty Byrde) y Laura Linney (Wendy Byrde) como personajes principales, y la serie acaba de estrenar la primera parte de la cuarta y última temporada. La trama de Ozark nos muestra a un analista financiero, esposo y padre residente en Chicago, que inesperadamente termina sirviendo a un cartel de la droga. A partir de ahí, después de mudarse a la ciudad de Ozark, en Misuri, implicara toda la familia en sus negocios y sus escándalos en el pueblo.
Ozark es una serie donde muestran una vida "típica" de una familia, que termina lavando dinero para un poderoso cartel en México, que que además tiene enemigos dentro del mismo pueblo. Lo que más llama la atención, aparte de las oscuras actividades de sus personajes, es que la gran mayoría de ellos nunca abandonan su vida cotidiana. El protagonista Marty (Jason Bateman) puede lavar cientos de millones de dólares en drogas, pero aun así conduce un vehículo normal, y vive en una casa muy sencilla, junto a sus hijos y esposa, quien también lleva una vida normal, de "ama de casa" que prepara el desayuno, hace una rica cena, ayuda a los hijos con sus tareas, y que con el pasar del tiempo, se va involucrando comprometidamente con el "trabajo" de su marido.
Marty acaba convirtiéndose en una especie de genio de las finanzas que, bajo las cuatro paredes de la casa. Lo irónico, que aunque llevan una aparente vida normal, hasta el pequeño hijo de Marty termina involucrado en el negocio de blanqueo de capitales. Jonah Byrde, en esta última temporada comenzó su propio "negocio" en el que está lavando millones de dólares.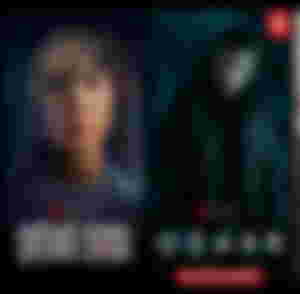 Foto captura desde mi teléfono.
Esta serie no sólo se trata de traficantes de drogas y los millones de negocios sucios que hay en el pueblo, sino que acá la ley, representada por el FBI, intenta a toda costa encontrar al temible magnate de las drogas Omar Navarro (Félix Solís), convenciendo a Marty para que los ayude a hacer algún trato con el jefe del cartel, y después de ello, Marty Byrde se convertirá en una especie de agente doble, al servicio del Capo Navarro, pero a la vez dictando todos sus planes y movimientos a la gente del FBI Maya Miller.
En la primera temporada se nota un Marty más determinado y fuerte, y en la segunda y tercera temporada, Marty va perdiendo el foco, y van saliendo a rescatar el negocio familiar, su esposa, e incluso sus hijos, y en esta última temporada, Marty Byrde pasa de hacer ingeniosas estrategias financieras a convertirse en una simple marioneta que dirige misiones para Navarro, y a su vez para el FBI. Perdiendo un poco su gran fortaleza.
Le sumamos que ahora aparece Javi (Poncho Herrera) el sobrino de Omar Navarro, que intenta dominar el negocio, metiéndolos en problemas con otros traficantes, asesinando a muchos de los que les estorbaba y cambiando todos los planes, poniendo así en peligro todo el negocio y a toda la familia de Navarro y Marty.
Falta ver la segunda parte de esta última temporada, que ha resultado ser más drama que acción, y un poco insípida para mí, comparándola con las primeras temporadas. Espero que me dejen su opinión si ya la vieron, y sino, les recomiendo aprovechen de verla, ahora que pueden hacer todo un maratón.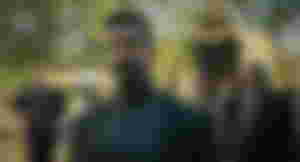 El mexicano Alfonso Herrera (Foto: Netflix)