On a particular sunny Wednesday afternoon during our lunch break at school, an announcement was made instructing all to converge at the hall. Soon after the convergence, our unpopular and not so like principal came forward to announce that he had enrolled the school to participate in an inter-college dance competition.
Our principal takes time to announce the criteria for winning and the mouth watering cash prize the winner would receive. He said the winner was entitled to a 100 million dollars and a full time scholarship to the best dance school in the world. She went further to state that the team to represent the school will be announced after an extensive audition had been conducted.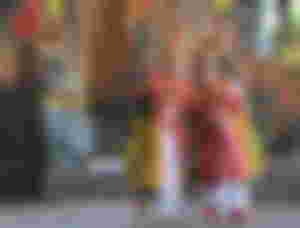 The whole school went agog with excitement and immediately, interested students began forming their groups in preparation for the audition. My friends: Micheal, James, Joshua and I went for the audition. My group eventually emerged as the top best and we were chosen to represent the school at the competition. Our dance style was "breakdancing" and we intensified practice. But we nursed a fear that our breakdancing were not adequate to earn us the final victory. We prayed and practiced, hoping for the best.
The night before the competition, I was startled from my sleep by a loud voice calling my name; I opened my eyes to see a dark figure holding four shinny pairs of sneakers. The figure handed me the sneakers with this warning "wear this when you dance but be careful when you step on the shoes." Puzzled and scared, I asked what this meant, but the figure had disappeared.
The next day I took the shoes to my group members and explained the unusual circumstances by which I encountered the magic shoes. We put on the shoes and went in for the competition. My group eventually emerged as the overall winner and just as we marched up the stage to receive our $100 million dollar cheque, my friend James woke me up from the sleep....

Alas it was nothing but a dream.