Christmas Traditions
December 31, 2021
Yay, it's the last day of the year and tomorrow will be a brand new year. I fervently hope that the new year will be good to all of us, no more pandemic and no more catastrophes.
Before the year ends, I would like to write my last article for the year 2021 and this is still about Christmas.
Any country, any family has its own Christmas traditions. We each have our unique way for celebrating Christmas.
When me and my siblings were still at the innocent age, our parents would tell us to hang a sock with our name on it under the Christmas tree and go to sleep early as Santa Claus will not visit if we were still awake. We always ran to bed then and wake up early on the next day excited to see what's in our sock. True enough, our socks were full of goodies and toys.
Then comes the time when we became naughty. We creep down the stairs and hide under the table to see if Santa really comes to visit. We saw our Mama and Papa filling up our socks. It was then the last Christmas that we put socks under the Christmas tree.
Another tradition we have was to hear the Christmas eve mass.
When I got married and had a child, I forgo the Christmas eve mass as there are lots of fireworks already when the mass ended. Unlike before that they just use bamboo to create fireworks sound.
I started another tradition then. We first pray the rosary by ten in the evening on the 24th and had some games after. By twelve midnight, we ate the food that was prepared for the Christmas eve feast. And then the opening of gifts when everyone is full. My siblings and their family comes to join us in the celebration. It is always a noisy night for us as the kids are always loud and they are allowed to be naughty.
We have some picture taking first before digging in to the food. The picture below was taken several Christmases ago when hubby was able to celebrate Christmas with us. Because of his work, this is a very rare occasion for us.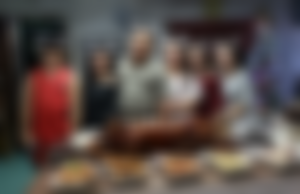 As December 25 is also my hubby's birthday, we always have a double celebration.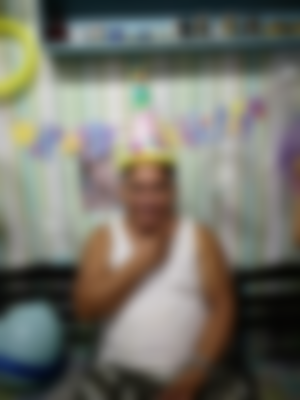 This year, despite the destruction that we experienced because of typhoon Odette, we still do the same tradition but in a simple way. We have lesser food on the table as we don't have a functioning refrigerator to store the excess food.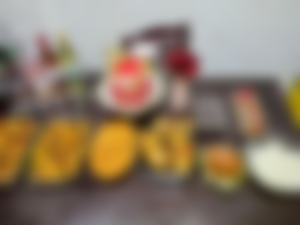 On Christmas Day, we just go to church and hear mass then stay home the whole day sleeping to make up for the sleepless night. But this year is different.
Because of typhoon Odette, almost all of our neighbors' house were gone. The walls and roof were being swept away by the strong winds. I can see that the kids are the most resilient of all. Even with their houses gone, they still make time to play and have fun. Our driveway is usually their playground.
To make their Christmas a little bit memorable, my kids organized a children's party for them and a little food to partake.
They played a few games and prizes were being prepared for them. All the kids got goodies, no one was left behind.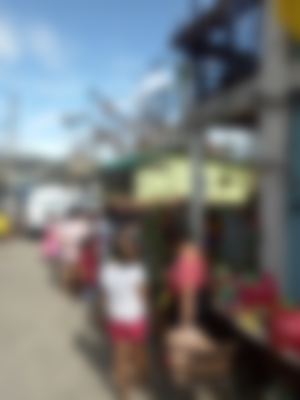 For I believe blessings comes to those who share.
Thank you for celebrating Christmas with me and my whole family.
Care to share your Christmas traditions?
A Happy and Prosperous New Year to the Read.Cash Family!
🎆🎆🎆🎆🎆🎆🎆🎆🎆🎆🎆🎆🎆🎆🎆🎆🎆🎆🎆🎆🎆🎆🎆🎆🎆🎆🎆🎆🎆🎆 
That's all for now folks.
Thanks for dropping by.
To my sponsors, upvoters and commenters, a HUGE THANK YOU!
Thanks for the 🧡🧡🧡.