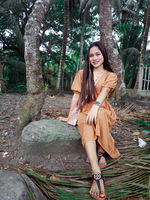 Hollllaaaa! Read Cash family.. Oww how are you? I badly missed you guys :( Did you finished ate your lunch? It's raining here it feels like i want to take a rest.
So first, I am sorry for not active this and not writing any articles it's because i have aome important matter to do.
Since I am a students,so I was busy working my modules, organizing our proposal and creating ideas in our business research. It's December amd this our last month to compile all lf our lucking activities that we have done. So this are the reason why I am not active this week. And I hope you understand me guys.
But before that, Let me thank this amazing sponsors of mine. Thank you always for supporting me in her. Im so grateful for having you as my sponsor. 💖😇
So last my roommate invited me to have a night swimming at Blue Oasis located at San Roque Tomas Oppus. So I was hesitating because I have my baby ( dog hehe) and I was worried that no one will took care of him but I'm so thankful that there is the one who insisted to guard him.
So we have our dinner at 5:00 o'clock before we left in the boarding house. After we prepare and packed our things so we waited our friends.
So exactly 7:00 pm we arrived na. I wasn't expecting that yung isa kung friend na mayroon pa siyang ininvite which is his friend's from highschool. They Brough alcoholic drink, but while waiting for them we just took a picture.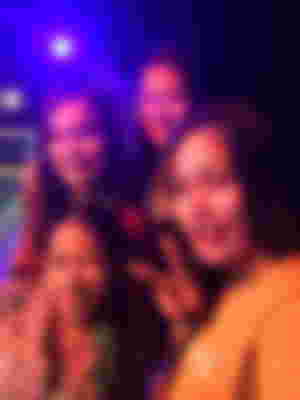 So this is us, patiently waiting for them. Exactly 7:30 they have arrived together with his highschool friend. If you are confused kung sino yung friend namin who treat us that night was Renan (he is a seaman, and he is the one who have a highschool friend) and there are three friends of him come out.
There is a name Cludel which is ka chat ko noon, and he would like to meet me that night but i was hesitating. But my friend insisted saying that "okay ra chati rako kung unsaon ka niya " and then I said that okay goo.
He is drunk that night, but seeing him was not obvious that he was drunk. So instead that i would like to show in here our convo but i forgot to screenshot because I was mad at him.. Veryyy!
So let me share here our convo :
Him : Asa ka?

Me : D.a ko dres stairs nag lengkud2.

Him : Ali dre chicka ta.

Me : Diko uyy kay hubog raba ka, niya bsen unsaon ko nemu hahaha.

Him : Come on, dile lge trust me. Chicka ragud ta unsa may naa ana?
And then I go because I trusted him. (some of my grammar is "bisaya" pls do understand )
While talking, he started to put his hand on my waist. That night dile naku comfortable because wala ko naanad. And I said to him na mamalhin me coz naay na check in adto dapit.. So he said okay.
Namalhin me sa stairs beside sa swimming pool area. While we started to talked again, he started to put his hand on my waist again. And the worst he started to put his hand on my hair, try to smell until he kissed my neck. I was so shocked that night, and gusto na naku mo balek sa cottage but he keep on bragging my arms.
And he said, okay let's go but before that I want to kissed your forehead, but instantly he suddenly kissed my lips, but i keep on refusing but grabe niya ka kusgan labina kay hubog kaayu.. Grabe nangurog na gyud kos kakulba.. I couldn't chat nor txt to my friends because he hold my arms. I slapped him, and I walked away, but sadly he bragged my hands again and went on the CR 😭😭 I was so nervous that time, grabe najud.. Nawala tanang kusog nako it's because nag mixed na ang kakulba ug kakapoy sa kamot ug pangusog.
So ni abot namis CR, and then he hugged me tightly like dile jud ko makalihok tungods ka kusgan niya, and then nalouy nakus ako kaugalingon kay mura nakog ghost it's because of my messy hair. And then, balek ta... So again tungod grabe na guro niya ka horny, he kissed my lips, neck and the worst iya naku gi karga but grabe na gyud ni hilak nako, pero sadly wala nakuy kusog 😭, nagpa bug.at nalang ko pero grabe na niya ka uwag..
I don't know if he touched my private part because luhag kaayu ko ato because dile naku gusto not to be respected. And then, pag nakagawas nakos iya kamot he let me go, and go to the cottage.
After that, i go to my friends and tell them about what happened.. While saying them, My tears started to fall, wala gyud ko nakahebaw..na traumatized ko about what happened, and then dali2 kog pahatud sa ako friend back to my boarding house.
I realised that, maypa wala nalang ko ni uban 😭, because i was expecting that kami2 ra adto.. By the way he is Civil Engineering and i was wonder why he do that to me without saying sorry :( Kuwang nalang guro huboan ko niya.. But thanks GOD wala ko nadala..
So that's all, I just want to share here all my pains about what happend yesterday's night..
Love - Jonna 💚