What does it feel like to be a hotelier?
0260602022
---
Hello there, my dear read cash buddies.Happy Sunday! How's it going? I hope you guys had a great weekend and spent your whole weekend with your loved ones. As for me, I was a little busy yesterday because I had some work to do, and this is also the reason why I was not able to publish an article yesterday because of my busy schedule. I was also not able to hold my phone and surf the internet because there is a CCTV right next to me and I might get reported to the Dean, so I just chose not to and just do my work.
So, the reason why I was not able to publish an article yesterday is that one of my professors sent a private message to me asking me if I was available to work that day and if it was okay for me to work during that time. When I read my professor's message, I didn't hesitate and accepted my teacher's request to work that day. He asked if I could work at the front desk because there would be guests who would check-in and stay in the hotel for days. The hotel was our university's hotel. We have a hotel inside the university where guests or visitors could stay if there is an event at our university. And also, so that they will no longer look for any apartments or hotels nearby if they need a place to stay. And aside from that, the rates are very affordable and the guests can lower their expenses.
Our professor reminded us to arrive early at 8 in the morning because we still need to clean each room as well as the beds and everything in the hotel. But I arrive at 10 am, meaning I am 2 hours late, not just late, but very late. When I arrived, my other classmates were already done with their work and everything seemed to look clean. That means that they are already done with cleaning and everything. When our prof saw me, he was not mad at me nor scolded me. Instead, he just teased me and made fun of me, not in a bad way but in a funny way that I myself was laughing too. He didn't mind if I was late because I would be working at the front desk that day, and he knew I would be exhausted later that day.
Actually, it was only the three of us who were working in the hotel that day, and we were the only ones who received a direct message from our prof. That means he trusted us and that we were capable of doing the assigned task.
We thought that our working hours would be from 7 pm to 8 am, but little did we know that it would be from 1 pm to 8 am. Our prof had just tricked us. Lol. After lunch, we had already prepared our service uniforms and went to our designated area. I and my other classmate were at the front desk entertaining the guests and answering their concerns, while the other was at the main entrance greeting the guests and taking their luggage and bags. Our guests at that time are not just ordinary guests because they are the school division supervisors and principals in every school in Cebu and even a high-class attorney and a Deped doctor, who are the VIPs that day.
Each of them had a lot of issues, but I was able to assist them out and alleviate their worries. But there are times when I am irritated. Well, I know I'm not the only one who is irritated by something that might have been averted and avoided. What irritates me is that some guests take their room keys with them and refuse to hand them over to me because I am at the front desk. When they arrived, they will ask for their room keys, which they have with them, and then claim that they don't have them. LOL. That was the only thing that irritated me that day.
It was a tiring but fun experience. What makes me like it, even more, is that we have unlimited coffee and snacks, so we can have a coffee and grab a snack if all of the guests are not around. Though it was a sleepless night, it was a great experience for us to interact with high-class individuals.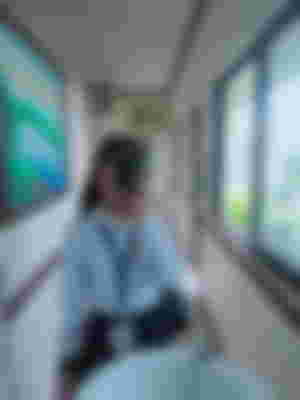 Took a quick shot before going home lol
Location: Comfort Room LOL
---
---
Thanks for stopping by, I really appreciate your presence here!
Stay safe always.
See you in my next blog!