A Bomb Fell Down Creating A Destructive Shockwave.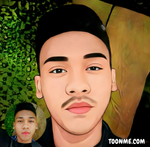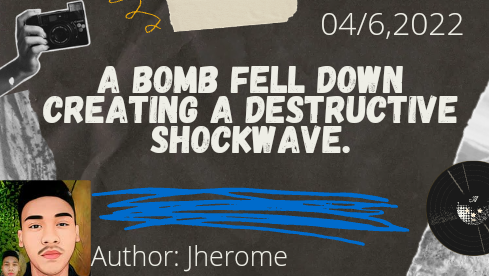 I've been hearing the loud sounds of aircrafts passing by above us for almost 5 times already back and fort for the last weeks and another 2 just passed by this day. What's going on? What's really happening outside? Why those heavy equipments of the military is flying above going back and fort to a certain place here in my country? Is there a war ongoing to where those aircrafts headed?
Those questions are popping in my mind one after another. I can't settle down unless I know what's going on because there are so many scenarios that can happen while we are sleeping soundly. What if one time I will not wake up anymore because I died due to a bomb dropped off in our place. What if some strange guys fell down from those things and one day we will find ourselves in a abandoned building with covers in our heads and our hands were tied.
What if those scenarios I think will actually happen? Does the the government will try to find us or try to find out what really went wrong that caused our deaths or disappearance? Will they?
Argghh..Sorry guys I just can't settle down my mind because of this one. I know that you may notice that it's like there's nothing bothering me in my past articles but I just can't take it. Those questions are repeatedly appearing in my mind everytime before I sleep at nigh. It's maybe because I have traumas about wars or it's just the effect of those actions movies I've watched back then.
Maybe there are other factors that affects my uneasiness now but one thing is sure I know that everyone here in our place also feels like that. But with the help of social medias nowadays I can really tell what really going on. Using them may pose a threat of fake news but some of them are legit and true.
Since I've watched that the government is strengthening our military force they bought some new weapons, new aircrafts to be specific. With these news appearing online and in the page of the military my mind settle down. Why? Because maybe they are just trying how good their condition is.
That's on my mind and that's what I'm telling to my grandparents because they are too curious about it and they even said what I stated in my first paragraphs. You see, I'm not the only one who thinks like that but even them because they already witnessed wars back then between the terrorist group and the army. It happened just beyond the hill in our school in elementary. Exchanged of gunfires, loud sounds of exploding grenades and many more.
What a terrible memory to be remembered just because they heard the heavy sounds of those aircrafts flying above us. That kind of memory will be engrave also to the minds of those who are experiencing war now. If there are many ordinary people who's suffering from depression, the soldiers who's suffering from that is twice that number because even if they are trained to protect and kill, still they are humans.
A lot of people engaged in their post about those aircrafts and I'm one of those who jump into their fun. haha . Why? Because I don't want to be drowned by my own mind. It's deadly you know. I've been there and I don't want to be there again.
One of the post I saw was,
Narinig at nakita niyo yung mga jet fighters kanina? Oo naman. Winagayway ko pa nga kamay ko tas nag ok sign naman. (Did you hear and see those fighter jets awhile ago? Ofcourse. I even waved my hand at then and they respond with a ok sign.)
Another one was,
Guys nakita niyo kanina yung mga dumaan sa langit? Oo ah. Sinabihan ko pa nga na huminto muna sa bahay namin para kumain ng pandesal at magkape.(Guys, did you saw those things that flew in the sky? Yes ofcourse, I even said to them that they stop for a second in our house to eat some pandesal and drink coffee.)
To see this things in social media made me calm and think that everything is still normal.
But at the same time I can't remove my worry about those things because as I've said without a doubt it can happen just by looking how our situation is. Hoping that it will not because the peace we are experiencing now will be wasted and we all don't want that right.
Author's note
There are so many things we don't know around us and it brings uncertainty to us. It creates panic in our minds but as we go on and witness the good side and funny side of our fellow humans, all those cloudy thoughts fades away.
My fear fades away and it all thanks to those people behind those acts.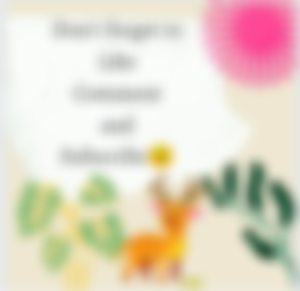 Lead image: I made it in Canva same with the image above.
To my sponsors and avid audience who always supports my articles, Arigatou💚.