February 15, 2021
Since it was Valentine's Day and I was bored at home, I invited my friend to visit an island here in Hong Kong. I've been to this island before but didn't have a chance to roam around that much because I was with my boss.

But before anything else, let me talk about this island first.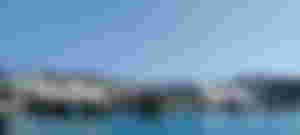 The name is Cheung Chau Island located in the southwest of Hong Kong island. This is one of the most popular and oldest islands of Hong Kong. The place is always full of tourists and locals of HK, especially on holidays and Sundays. There are a plethora of things to do on the island and not just good for photoshoots.

Before it was considered a fishing village but it has grown over time into a popular tourist destination. So if you want to discover a fishing village community with mouth-watering seafood fare in traditional style, Cheung Chau island is the best spot for you.
From the city, you need to ride a ferry, either ordinary or fast ferry, depending on your preference. Just make sure to go there in the morning because the queue in buying the tickets is always long. I was quite late though because I woke up at nine in the morning and my friend was already at the pier as early as past eight in the morning. Since we want a bigger space and cheaper fare, we chose the ordinary ferry.

The fast ferry offers a comfortable upholstered seating arrangement with air conditioning. While the ordinary ferry offers an open deck with limited seats. But if you are not in a hurry, you can choose an ordinary ferry so you will be able to capture the seaside views on the way to the island. It was actually worth it because we were able to take photos with the sea as the background, and some passing vessels and ships.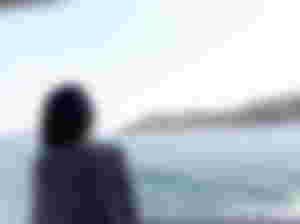 Yesterday was the best time to do island hopping, expecting for a sun-kissed while embracing a quite icy breeze, indeed a perfect time to escape from the toxic city and relax from stressful work. The ride took more than an hour but we enjoyed seeing the relaxing and captivating view. Different vessels, small and big ships, and police patrols were on the water from time to time to monitor the happenings in the sea area.
After an hour and fifteen minutes, we were able to reach the island and the first thing that welcomed us was the crowd of different locals and tourists.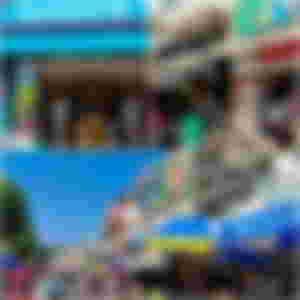 The island is not just a simple island because you can also see a lot of stores that can be found in the city, such as Watsons, Mannings, Baleno, 7/11, Circle K, and fast food like McDonalds, and other restaurants and bars, and many street vendors selling different delicacies and desserts.

If you are a practical traveler or tourist, you can bring your own food with you and just find a place where you can settle your mats and eat your food. This was actually what we did yesterday. My friends have food and bought some Jollibee chicken joy in the city.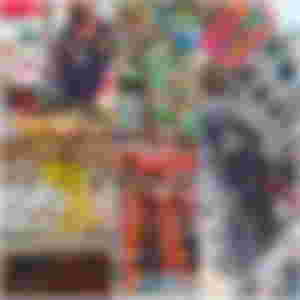 There were several local stores, food stalls of traditional-style street foods, and Chinese restaurants and bars. You can't just leave the island without buying some of their local street foods. They even have some Thai delicacies and Japanese style rice sushi. Unfortunately, the queue was so long so we ended up not trying them, but I got some photos of them as a souvenir.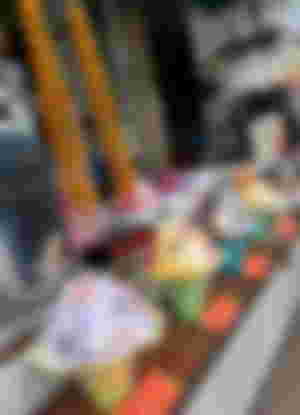 Among the famous street, foods are mochi, fishballs, locally made egg tarts and egg waffles, and this perfect combo of fried sweet potato chips and crushed ice with different flavors. In the Philippines, we call this halo-halo.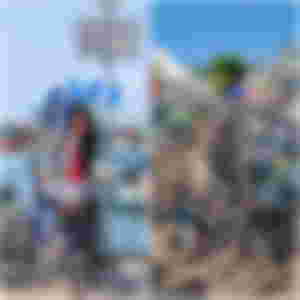 There were hundreds of bicycles on the island too where you can rent them for as low as $50 (HKD). Most of the rental shops are just located near the ferry terminal. But if you want to cover more ground while biking, it is best to go there on weekdays, since the island on weekends and holidays are always crowded. You can also rent a lock for your bike in case you want to go hiking.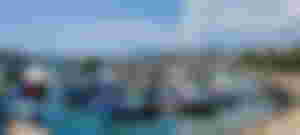 Aside from riding bicycles, you can also take kaito (small boat) if you want to explore the area around the island and the famous cave called Cheung Po Tsai Cave. Exploring this cave will gonna be my next plan since we don't have enough time, we didn't go hiking nor visit the cave.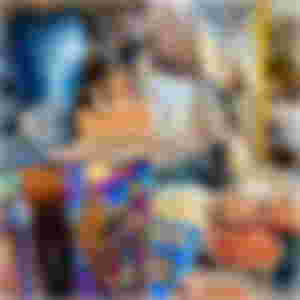 You can also see some souvenir shops and stores selling dried seafood. Since Cheung Chau island is a fishing village, it is also known for dried seafood. There were also restaurants serving seafood as their main cuisines such as fish, crabs, squid, clams, fresh oysters, and more. I even saw this giant fish ready to catch, cook, and serve.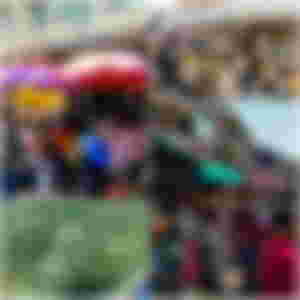 The island is also known for their delicious seafood congee, unfortunately, we weren't able to eat seafood congee because the restaurant of my boss where we were supposed to eat was closed. So we decided to go to McDonalds and eat some sundae to beat the heat of the island because someone in our group was craving ice cream.
There were two large beaches on the island but we only visited one of them which is Tung Wan Beach. The sun was so high and the heat was so tense with a little cool breeze. My face even turned red from taking photos while facing the heat of the sun. And if you want to go swimming, you can rent umbrellas, chairs, swimming gear, and beachwear good for a full day of fun. It also offers the usual amenities such as toilets, showers, and lifeguards. But we didn't visit the island to go swimming, only to take photos while strolling around the island. The island is also a good spot for water sports activities like kayaking and windsurfing.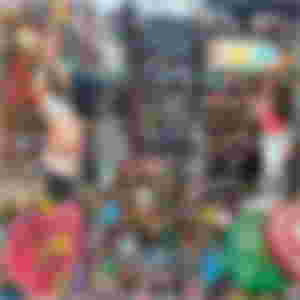 Just a few walks from the beach is the famous place on the island called Love Lock wall. People, especially couples visit this place every Valentine's Day and it is one of the most popular attractions on the island. Love Lock wall is a wooden house with iron fences as a wall. Couples even singles attach padlocks with their names and wishes written on them. Visitors can buy padlocks at the store just next to the love lock house. You can also buy a wooden-shaped heart and paint anything on it, either your name with your partner or your wishes then attach it on the Love Lock wall.

There are still other things to do on the island, but because of lack of time, we were not able to do them all.

You can hike on the island and you will see the North Lookout Pavilion and the perfect beauty of the island from above. And the one I mentioned above is to explore the Cheung Po Tsai cave using a small boat or kaito. You can also visit some old temples located on the island. If you are planning to stay overnight, you can stay at some hotels near the beaches where you can admire the beauty of the water at night.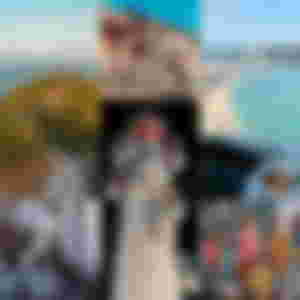 And the famous festival called 'Bun Festival' is also held on Cheung Chau island. The festival coincides with the birth of Buddha that usually happens in May. During the festival, there are parades, and bun towers are made along with bun climbing competitions. The island turns vegetarian during the three days festival celebration.

It was past two in the after when we decided to go back to the city. We choose the ordinary deluxe ticket so we can sit on the open deck where we can take more photos and enjoy the view for the last time. It was so freaken' hot since there's no roof, but we still enjoyed the journey while taking photos of the sea and the seaside views. On our way near the city, I finally saw the awesome Hong Kong bridge and take a nicer shot of Hong Kong Central City. We bought the 3:30 pm schedule tickets and reached the city at almost five in the afternoon.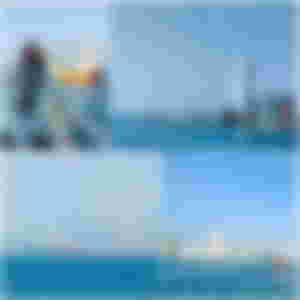 The short journey was enjoyable and Cheung Chau island is a place that you will want to visit again and again. And the next time I visit this place, I will make sure to hike the hill, explore the cave, visit the temples, and taste their local street foods and seafood congee. And hopefully this May, I will be able to experience their Bun Festival before I go back to my own country.
Despite the pandemic, the island is always busy and tourists are still coming back and forth. So if you want to visit the island, make sure to go there on weekdays. It is the best place to bond with your family while experiencing the life of a fishing village and indulging in the traditional style of local foods.
So what are you waiting for? Go visit the island, bring your best summer outfit and your family.
Thanks for reading @Jane