I Badly Needed A New Laptop This Month
July 27, 2023.
I Badly Needed A New Laptop This Month and I need at least $500 to buy one!
---
Greetings my wonderful readers and friends!
I have had my laptop for about five years now. I was tight on cash at that time so I just bought a Lenovo laptop which cost less than PHP 20,000 or about $400. It's budget-friendly, but it is only powered by a Celeron processor.
A Celeron computer is good enough to do some basic office works like creating documents, spreadsheets, and presentations. Anything more than that, the process gets too slow.
About three years, its performance started to degrade. It took more than three minutes to start sometimes five. Something is dragging the system down. There were times when it will not boot at all. I had to keep it plugged in for over a day before it starts. I speculated it was the hard drive.
I bought a new SSD drive online. It worked! Moreover, with the SSD drive, the boot time was reduced to less than 20 seconds.
---
Since last year, I've been doing more than just basic documents and presentations lately. I started doing some graphic designs again. With the financial difficulties caused by the pandemic.
I tried using my laptop at first. Inkscape is light enough to run smoothly even on a low-powered computer. Then again, Inkscape is great for creating vector graphics. For photo editing and other graphic design, I can only use my laptop for simple projects.
I bought a 10.4-inch tablet last year. The Huawei Matepad came with a keyboard and an active stylus. I was able to do some graphics. However, I encounter some difficulties when I use some online applications or platforms. Sometimes I have to send my work to my laptop, either directly or via the cloud, and upload it. Not a very efficient way to do my work.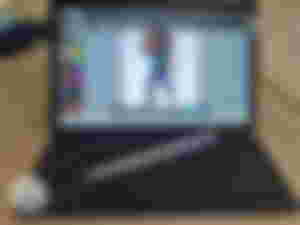 I plan to use the new laptop to earn more online and offline. Though I can use my old laptop and my tablet to create video tutorials and other content. It's just too slow. I also wanted to offer some services online.
If, or when rather, I have a new laptop, I can do my work and services more efficiently.
I love using my tablet. However, I need to be more efficient in my work. I need something with a more powerful processor and a bigger screen. I searched the web for some laptops under PHP 35,000. On the site:
10 Best Budget Laptop In the Philippines 2023
Number three caught my attention. The Huawei MateBook D15. Here are some of the specs:
Processor: 11th Gen Intel® Core™ i5-1135G7

Memory: 8GB/16 GB

Storage: 256GB/512GB SSD

Size: 15"
With the minimum specs, the price PHPis 27,999 (approximately $510), and it could go as high as PHP39,999 (approximately $727).
That being said, I need at least $500 to buy a new laptop that I need.
---
At my current rate of earnings, I admit, it will be difficult for me to accumulate that amount in thirty days. Sadly my earnings from posting articles is far from enough. Perhaps, if by a miracle, the BCH price would skyrocket to at least $600 then probably I can buy the laptop right now.
Hopefully, I can find a way to earn the $600 in such a short time. For the meantime, I will do what I can with whatever I have right now.
---
Post No. 2023-39
Date Posted: July 27, 2023, Philippine Standard Time
All images are mine unless otherwise indicated.
| Read.cash | Noise. App | Hive (Via Ecency)| Forum Coin |