Army Day and The Resting Brain Sunday
Hello my passionate co-writers in this site!! I think I missed writing last night because I was tired yesterday. It was a holiday yesterday but I went to work to render overtime. I forced to go to work because we have a mini-celebration too.
Yesterday was Army Day. Army is the Fandom name of BTS and every 9th of July is the anniversary. It was 9th year anniversary of Army! Me and my officemates planned this a week before but just yesterday it was a blast, all ideas where just given and shared. Me and one of my officemate were the ones that are busy with the preparation and all.
In one of our room, we designed one of the walls with BTS pictures and some plushies. We bought food and cake for the anniversary. We even have little give aways. On lunch before we eat, as we have a mini-celebration too, we made a TikTok content first and post it on our social media. We finished all about mini-celebrations after an hour since we need to get back to work.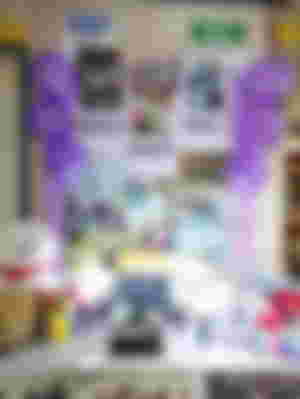 Above is our BTS decoration. I shared it too at TikTok and Twitter. In different parts of the globe, Army has there ways of spending time with co-Armies as some of them had organize an event, a gala night, a bazaar, a mini-concert party and just a simple gathering with treats. I browse on TikTok and Twitter and I saw lots of Army are enjoying the day. Happy Anniversary Army!!
I am so happy during that time. I really enjoy this Fandom. This kind of Fandom is where I belong. I'm glad that I influences my officemate to support BTS too and become an Army because if I am alone, I will be so quiet about BTS in the office and it is just so sad when you are alone in something you really love. Thanks BTS for givinge the chance to be part of your amazing Fandom.
I was tired that when I went home I gave in to sleep and I just woke up at 4 in the morning realizing I haven't had dinner and my dog missed her dinner too. I have to wake her up and we ate our dinner/early breakfast at 4:15am. We got back to sleep afterwards. I woke at past eleven in the morning already. I guess my body and brain is the boss during Sunday.
When I woke up, me and my dog Unnie were so hungry. I prepared food and coffee. Later in I prepare her for bath. But before that, we had our lunch and I drink this prebiotics called Kombocha Teazen Peach flavor.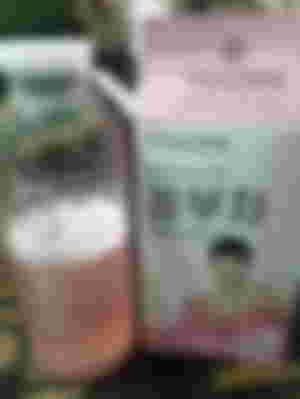 I bought this at Korean Grocery and I have the peach flavor where Kim Taeri is the model. It taste good. I never been a fan of fruit juices but this one taste good to me especially when it has lots of ice. I drink this 30 minutes after lunch and I can feel that my stomach is complaining. I really went to comfort a lot of times, it was fast!! After a series of coming back and forth in CR, I can feel thaty stomach is lighter. It gave me a lighter feeling.
It says that it can help in fast digestion and lose weight. I cannot attest to that this early but when it comes to being a prebiotic this could enhance the growth of good bacteria so it is surely my body needs. It gives the same benefit as garlic and banana are giving to us. I need to drink this once a day, but do not drink this when you are about to go out or be staying out because it is not friendly to the stomach, lol.
After this one, I apply hot oil to my hair since I just dyed it blonde. I need to find a non oxylate conditioner which I haven't found at shopee. That is my next assignment. Non oxylate shampoo and conditioner support color stay.
I remember I did a research on Shopee about Make up Mist or Setting spray, I missed searching about the non oxylate conditioner.
I bought this Makeup setting spray with collagen at Walter Mart department store. The name is In 2 It Make-up Stay Mineral Setting Mist. Actually this spray really makes my face to feel soft. I love the soft feeling it brings. This spray avoided me to use foundation when the use it to let the foundation set in your face and I just noticed that I do not apply foundation nowadays but only powder and I will spray it to my face. I am not sure if it works to set the powder to stay it for long in the face because as soon as I am at work and need to replace my facemask, all of the powder are sticking on the face mask. Now I think it is not really effective. I will just use it as a face mist. Sometomes, after a toner, I spray it to my face and then I will put sunblock, then powder, then I spray it again. My face looks and feel soft but still I can see the imperfections since I do not use a foundation and concealer.
In the afternoon, as I told you I put on hot oil on my face, I also did some over all pampering to myself while listening to some old Christmas song. I did the laundry too. At 5pm I slumber on the floor. My two dogs were all sleeping beside me, one is sharing a pillow and the cold air from the electric fan really gets us to sleep. I woke up after 2 hours, but I still feel sleepy that is why I know my brain is dictating something to my body. It is telling me to sleep. I slept again and woke up at 9pm, theb I chatted with my friends.
I might not did anything to earn money today but the idea of my brain to have a rest is such a perfect one. That is what my body really needs and I am thanking my brain for being the boss for today.
Oh before I end this, I dream of a specific site. I don't know the name of the site but in my dream it seems it is a paid to post site and I am already an old member of the site. When I saw my earnings it was $189 and I saw the minimum withdrawal says $200. If I didn't wake up, I already cashout I guess, lol.
I am parking now, ready to sleep again. Have a great week days ahead!!