Went on a date with two beauties.
Last week was a stressful one for me so far, it rained almost every day and it made the farm work tiring. The sun was up on Thursday and I was fooled by it so I decided to go on a date with nature because it has been a while since I done that.
This is one of my routines to unwind when I am going through any form of stress and it has always worked for me. I don't know if referring to myself as an advocate of nature is okay but one I am certain of is that I have lots of respect for nature and I try to educate people about nature because of its impact on me.
I aimed to walk down to the garden which is a long trek from my house but my fiancee called at that time and she insisted on joining me so I had to go pick her up. It wasn't our first time going together, I remembered how curious she was the first time we went because I said I was going on a date with someone, and she insisted on going to see who it was.
She was disappointed because it wasn't what she was expecting but it turned out to be one of the most beautiful moments in our relationship. She is always eager to join me since then and it is always fun for us.
My favorite location is always Lagos State Polytechnic, I did my ND there and I know everywhere in the school. The school has a lot of beautiful spots, they invested a lot in making nature flourish in the school environment, and a lot of students love the environment because of its impact on their mental health about studies.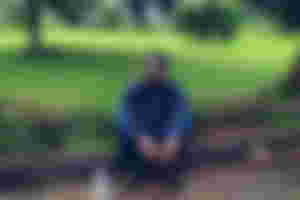 We got there and walked around like new lovers, other students could tell that we aren't students because of how we were holding and chasing each other around while having fun on the school premises.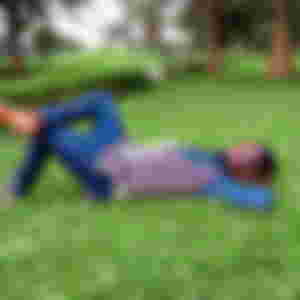 We explored the environment more than we have ever done and went taking pictures of birds, butterflies, tractors, flowers, trees, and clouds. We didn't hesitate to take a few shots of ourselves as we moved from one place to another. We had just snacks and water, at our favorite snacks shop in the school when we were students.
My favorite part of the date was when I finally settled in one of the school gardens. I was tired from walking and had to relax, laying in the garden wasn't the plan.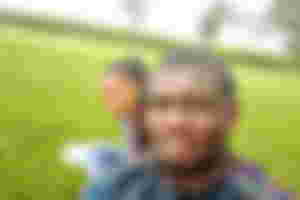 We intended to sit and chat for a while before leaving but the moment I laid my back on the short grass, I immediately wished that I could take a short nap. I almost did but the rain started drizzling and we had to leave. The rain dealt with us because the trees were the only nearby hiding spot so we stood under the branches but they were only helpful for a while. We eventually got wet by the rain and had to just walk back home in the rain.
We spent approximately 5hrs on the date and I felt refreshed. One of the reasons why I hang out with nature is its ability to absorb my stress and I hope it never gets tired of doing that for me.
It was a date with two beauties, my fiancee and nature. Aren't they both nature? Yes, they are.
---
All image in the post belongs to me.