Writing Prompt #1: Got Enrolled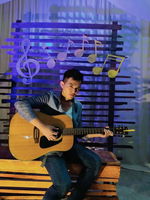 02-28-2022 | Gemini
Good day everyone here in read-dot-cash. Today, I will going to share to you what happened on my entire day in school.
I hope you will enjoy reading this article.
---
I woke up early in the morning at 5:30, then I prepare myself to go to school. I took a bath, and I drink my coffee and forget my breakfast. HAHA
Ako ra ba ang dili gapamahaw inig sayo sa buntag? Unta tanan, unta kamo pod. HAHAH
At exact 7:00 am, my cousin message me on my facebook messenger.

"Tara na" means (Let's go) in English.
Then, we ride a motorcycle unfortunately there is no vacant seats in every jeepney that passes by. Around 7:40, finally a jeepney appears with no passenger.
As we're heading to school, the traffic irritates me so bad. Then, at 9:10 we arrived at school and waiting for our names to be called.
I waited for 1 hour to have and get my enrollment form, then I ahead immediately to different personnel's in school to be signed, then wait for another 30 minutes to be called again. While waiting to be called from the cashier, I am so nervous because I did not bring any amount to pay my tuition fee, because I am relying on the scholarship granted on me by the CHED or the Commission on Higher Education. However, the school registrar said that the fund from the CHED have not received yet.
As my name called by cashier, I head to it with nervousness inside me, then I thought I have amount to pay but grateful, because the cashier said that it's already okay.
I am so thankful that God moved in mysterious ways. After that, I head to last step of enrollment which is for validation of our identification card, then I signed 3 pages of bond paper for my document, and I wrote my name on it.

Finally, I am enrolled for the second semester of my 4th year in college. I wasn't expecting that I can continue my study due to financial instability, but gladly God gave me wonderful opportunity to continue. And yes, I am now at 4th year, and the end is near (I am referring to our Graduation). Hopefully, I can pass my 2 subjects for this semester with 9 units.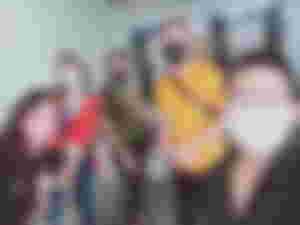 In this image you can see that I am with my friends and finally we still reached this point in college, wherein we're going and we will be able to finish this semester again together, in God's will. I am lucky to have them, and forever grateful I have met amazing individuals.
---
Thank you for reading my article, though it is not informative that can be useful in your life. Still, thank you for spending ample amount of time in reading this.
Wish you all the best and stay safe, be safe and God bless you all read.cash family. Love you.
Love,
-Allimages attached are mine