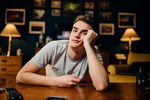 Many have regretted the step they took in doing some things which the outcome was very bitter and unbearable for them to bear. They had gone too far in it before they decided to turn back, which was late for them. I don't know if it was their decision or a friend advice which led them to what they did. And if it was a friend advice,why didn't you think about it properly before you conclude before doing it also.
There's a story I am about to write and I will like us to pay close attention to it so that we don't make the same mistake also,the story goes thus;
"Please and please I have my life to live,let nobody decide for me on how to live my life. I am no longer a toddler who you can decide for,I am now in secondary school,I am a big boy now" - All these I keep saying to my parent whenever I am being chastised for doing something very bad. I see it as a hate on me and I don't want them to continue it so I have to yell back at them so as for them to get tired or even stop saying it. All this went for years till I graduated from secondary school. I wrote jamb more than three times and I didn't pass because I am not ready to further my education so I refuse to read. I am not even the reading type or the brilliant type so why expect much from me. After all, my dad is a millionaire and has a lot of company,so why did he want me to go to school when he can just put me In any of his companies and I also become the CEO and start making money. I am also his only child,not just a child, but his only SON. I am his heir whom he will handover all his property to when he is gone. Can you see the emphasis on the word "SON",I am always proud to say this because nobody can replace me. That's has been the motivational word for me that kept me going and continue in that my non-challant attitude and all sort of bad behaviours.
Oh,pardon my manner,I forgot to introduce myself to you guys. Anyway, Segun who has brought you all here knows me very well and he comes here everytime to meet me for advice. I am Lagbaja Williams, but you can simply refer to me as "Abamo". I am 76 years old,the son of the popular rich man called Chief Williams as at then. I never went to school like I had earlier said at the beginning of my story. Now that you know my name,let me continue with my story.
This my attitude continued to grow worst even till when I am old enough to marry and I couldn't retrace back my steps to make a good correction even though it might have been too late. My dad told me to further more on my education but I insisted that I can't because I so much rely on his riches. I started smoking ever since I finished my secondary school then graduated from smoking. As a rich man son,you should know the number of people that will associate with me and also the type of people I will relate to. Both the rich and poor attached themselves to me and I allowed them because I don't care. They help me spend my money and even take me deeper into those attitudes. After some years,I went into drugs and I started carrying girls (hot babes,I mean runs girls). I make love to them and pay them money. I also dated some girls and I called them my girlfriends. Are you thinking of where I got my money? Hmm,amidst all these attitudes,my parents still give me my monthly allowances and some tips. Like yorubas do say " omo buruku na lojo ti eeh" meaning even the bad child has its own good days. I am not that bad that I don't have days that I behave to be the good boy they want. This is one of those things that still make them to keep paying my allowances. Many years passed away and it looks like my parents are getting old and I am also increasing in age. Hmm,did I say it looks like? They are actually getting old and my dad could not be the strong man that he is any longer and my mom too was old that she no longer does those house chores she does to assist our house help. One of the girls I did make love with then got pregnant and I denied it wasn't me, but my parents accepted the baby and didn't allow her to stay.
Money no longer pop up as usual in my account because my father got tired of me because I refuse to heed to their warnings. My mom did show me love me right from day one, even though it was her so much care that led to my spoilt. Anytime my dad is correcting me,she tries to ease the scolding though she does scold me but then is not like my dad. Although my dad stopped sending me money,my mom still manoeuver her way to collect money from him in order to give me.
It happened my father got ill and the sickness was so much that he spent so much on sickness. Amidst that I still didn't change,he was on the sick bed and I was still partying and having fun with my friends. But something shocking came up. My dad decided to call a family meeting when he discovered he might not survive the sickness. I long anticipated the meeting because it was that time I know all my dad properties will be mine and I will have control over money to flex more life.
The day came and the meeting started,it was at the beginning my dad made mention of something that up till now I still feel the pain and shock that I felt then. What did he say?
"He said I am his adopted son".
Adopted!!! How,I need an explanation. Someone should wake me up from my dream.
Segun- sir,how is that possible that you were adopted and you didn't know all these years? Are you trying to make the story longer or what?
Bayo- have you forgotten, he said it is a true life story of his own? Why would he want to add that to the story,continue Mr Abamo,I am listening.
The day is dark already,your parents might have been waiting for you guys to come back home. Go home now and come back tomorrow for the remaining part of the story. Thanks for coming and listening also.
Thanks for reading
Byeee for now😘😘.
16th july,2021.