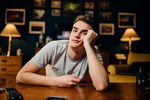 A lot has been written about this challenge and I thought at some point that I shouldn't jump on it but then I was out of topic and I decided I should also do it too. Below are the numerous questions generated and I answered accordingly without putting some "ojoro answers" in it🤣🤣🤣🤣🤣 I mean without putting lies in it.
This has happened many times, especially when I am with my gees,I mean my friends that we do move and do a lot together in school. I always cracks jokes because that's the type of person I am but is not always everytime they laugh at it. I will just have to pretend and laugh alone. Another angle the question is coming from is the aspect where I am alone and think of the jokes that I cracked, I will just burst into laughter and say to myself that " Gaftek you are too funny and smart". I kind of praise myself and have the vibe to do more🙈🙈🤣🤣.
This happens to almost everybody if not all. It is that thing we all find very hard to control. I am really guilty of this and I enjoy doing it even though people around me shun me not to. I do this, especially when I just learn the lyrics to the trending song most people don't know how to sing correctly. I do it as a show off 🤣🤣🤣🙈 did I say show off? Hmm,anyway if you say so,I think I did it to make them correct themselves for the lyrics of the song.
🤣🤣🤣🤣 This got me laughing so hard that my chest is paining me because I am a number one violator of this. I do think I heard the lyrics well and I sing it repeatedly and continuously. Funny enough I will now sing it very loud for people to hear, never have I known I was singing rubbish. Most times,my roommate does make jest of me and that makes me go and browse out the lyrics of the song.
I have never thought of this because I did not have a course to do that. I am a scholar like people say. My primary and secondary days were sound and great. I am not trying to boast or trying to show any pride but that's the truth. I am part of the best three of my set and this started right from primary school. Maybe because my mom was a teacher then,i am always hot🤣🤣 hot boy "opoor" meaning I am just too much.
I am sure we all did this when we are small and I am proud to say I did it too. This happens when I am just happy or when I am see my mom clothes on the bed and I just decide to put it on for a test. I will now go im front of the mirror to feel myself, hahaha.
I did this only once and that was when I was in junior secondary school. A stage competition was on then and my school was invited. A guy from art class has been chosen then,but he was not good at it.I was in science class and I was called upon because of the way I do behave and joke about the whole school. It was my passion anyway,so I acted it perfectly and that's how I was chosen.
Hmm,this happens when I and my friends go out fishing. Lols,by saying fishing I mean when we go hunting for girls. We go in search of girls to woo in the night whenever we finish exams and we have not left the hostel. Pretending to have met her before was one of the O. T (like we do call it) we do use to get their attention. I mean those techniques we use to create an atmosphere for good discussion and attention from them.
I created my Facebook account when I just entered ss1 ( senior secondary school 1). My friends have phone then and have created theirs,I had to borrow my sister's phone to create one too. I haven't been active on it for sometimes now because whatsapp and telegram has more features of what I want. And again my friends see it as an app that's open to both normal and abnormal people,sorry to use that word.
We are all guilty of this also. You will have drinks in our mouth and a joke or something funny is being said,you will now want to laugh forgetting there is a drink in your mouth,you just suddenly burst into laughter and the drink will start coming out of your nose. It has happened countless time.
I am sure you all are expecting naughty questions but to your surprise it wasn't because those questions didn't pop up for me. I hope you laugh a little about the few ones I answered.
Thanks for reading.
God bless you all.
Byeee for now
15th,july 2021.