My Vision As I Will Be Father Of My Future Children.
Does the pattern still need to be visible? From learning the mushroom and then the next rabbit, I am now at the level of herbs and spices. Things that go to planning, I am happy that just a simple plan and now turning into reality. First, it's not that easy, there is complete maintenance, and I need funds to do so. Now it's getting ready according to my plan, a long time ahead, but thinking it all becomes visible, there is still satisfaction.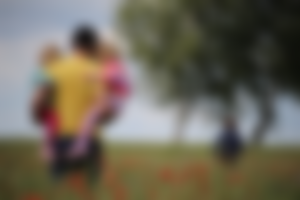 This is what makes me interested every time, and I know that there will be times when what I vision for myself at my midyear of life will be possible, from doing business, finance and investment and soon my education and the things that are listed to my bucket of concern.
I suddenly remember the days when I was thinking so deeply, planning what will life be like in the next ten years to come, being employed—having a family and a lot of boring stuff that goes to me. Then I need to secure my family and living, food and security. In terms of food, I want that never my child will be hungry, never will they be asked for food, for they were this hungry and days had passed, they don't yet eat.
Thinking about the reality that this is happening to other people made me sad. What if I were in that position, I would be like the father shown in the news that, due to the pandemic, there was no choice but to feed his child a coconut and meat the whole day and the next followed days; like I vision myself into that.
Securing money still won't guarantee you won't be hungry, there is still inflation that happens these days, and even though you have the money, you will be only buying less. Also, there is hyperinflation in economics, where even though you have a large number of banked funds, it can result that your cash-on-hand will being less valuable. Though you have a million now, you won't guarantee that still, a million is worth the next ten years. It may be half or, worst, cut to 10 times. That's tragic.
Securing my future family, not with money but more valuable than this, I like to keep land, own a home, business, and, most significantly, abundant food.
Food stocks this is something that was challenging. Stocking food today for the long term means you have to buy preserved can goods, noodles, and many more. I don't like to be with my soon-to-be child; I want them to grow and feed healthy foods, not restricting them to the hot and trending what they see on the internet but most likely to have at least an alternative.
Mushrooms are why I am still trying to read and learn something daily in mycology. I want to have this all year round in my family soon, like building my home underground, and inside was an indoor production of mushrooms, which will be available almost every day—also preservation for the long served life of the mushroom as food and snack.
Rabbit, at the end of the day, meat that is available in the market doesn't guarantee safety; maybe now we will have an abundant supply of meats but soon and expect that prices will make your lesson to consume meat. I want to grow my farms, and one of the steady and silent yet clean is rabbit. This is why I am in the field of viewing what will happen and looking for the things I can change and develop on my own.
Herbs (Plant) right now, I am collecting the plants and seeds. I want to multiply them and make some simple living in it, like propagating herbs and selling them to others soon, so I could use that to have another of my collections. That's why I could also trade and make something more from a single plant.
I envisioned that one day I would have this rooftop full of edible plants and herbs. When I needed something, there was fresh vegetable and fruits to get, or there was preserved in cans to use. I am more on conservation.
The thing I want most is food; even if I have no money, there will be available to my family if I lose my job. I might rug my funds, or worse, I am away. I want them to live healthy and be just what they like, with the nurture of my passion.
And the last one will be planned as I will enjoy life with them, for I am enjoying looking at both my family and what my passions will be. Well, I am just preparing for the reality that money nowadays is like crypto, volatile as always. Thanks for reading...