My friend was so worried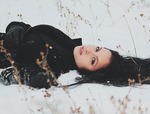 I hope that you all are doing well . Today the weather is cool as compared to previous days and it is looking like the weather is about to change.
Yesterday was last date of applying for test and my friend decided to apply for this test. I have suggested him already to apply before the last date because no one knows what is going to happen. There might be a tragic can happen so it is good to do a work on time.
But he said that I don't have enough money to apply . So I said that okay if you don't have enough money to apply then I will help you and I said don't worry but I just have 800 in my easy paisa so I asked him "800 " are enough or not? He said that applying fee is 1200 so please arrange 1000 I said "I am providing you 800" come on bro you can make 400 by somewhere don't behave like child . But he denied and he said " keep your 800 " I got angry on him and I said okay if you are saying this then okay and go away from me and don't ask for help from me now.
He said " okay bye" but you know in the evening he messaged me back and he said sorry bro I was not in senses that time so let's talk about random things I replied " sorry from my side I got angry on you and it was my mistake" .
Then we just start normal chatting which we use to have. But still we have serious chatting . I said " I am still angry on you because you are not following my advice" he replied: " o dear just leave this topic now we will apply tomorrow " . I left the topic immediately and I thought that it is his own work and he knows better what to do .
On the next morning , he messaged me and he asked me wether I will go with him or not to city for applying ? I said " I will go with you" he came to my house and at that time I was taking shower. After getting ready, I went with him to city. There we go to internet cafe where we asked the person who was sitting there about apply . He said that you have to wait for one an hour . Because he was too busy to complete our work . We waited so long then when our number came we were facing problem because we have forgotten our password we thought that we can reset this password within minutes but we were not receiving any pin code on email and he was getting angry on everything.
He even called his brother and got angry on him. I was surprised because I have never seen him so angry like this . I said " don't worry take things lightly and hope for good in Sha Allah every thing will become better " the person on internet cafe advised us to visit in evening giving an excuse that this time the website is not working well and there is so much hustle this time on website .
I took his mobile and tried by myself . And to our luck we received pin code and by putting that pin code we changed our password. Thank God he start breathing normally we both became happy you know it was last time and we have done this. After completing our application we went to bank and there we deposited the challan fee and after there we came back to internet cafe and handed over him the challan to upload on the website our application got submitted successfully.
Thanks