Yesterday morning, Getting up from I was brushing my teeth. When I stay home, my nephew always wakes me up from bed in the morning. Kaku wake up, give me your phone, I will see Matu Patlu, Cartoon. In our Bengali language, we call uncle, Kaku. So, he calls me Kaku. I have to wake up from bed hearing his known tone to me. He is 5 years old now. Most of his time, he spends with me.
When I was brushing my teeth, My nephew came to me and told me, Kaku, I will brush my teeth with you. I gave him a brush mixed with toothpaste. I was spiting on the basin but I noticed my nephew was not spiting at all. So, I asked him, Kaku, I noticed that you are not spiting at all. Where are you hiding your toothpaste? He replied, 'Kaku, It is tasted sweet. So, I am eating that. Don't tell, parents. They will beat me.' I told my nephew, 'okay, I will not tell anybody. Do you want more toothpaste?' 'No, Kaku, I am finished for the day. Tomorrow morning, I will brush with you again.' replied my nephew.
For the last couple of days, somehow, there is lacking pure water in our locality. We never fell into this situation. There are many reasons for falling this situation right now. But I don't want to discuss them here. Most of the tubewell is found in arsenic. So, hearing this sudden news, A water officer came to inspect the situation, He inspects everything with co-operation. I was also inspecting his activities staying beside him. Somehow, He asked me, 'Suddenly, Arsenic is found in water everywhere in this locality, how do you drink water?' I told him, ' Sir, you know the arsenic problem is very acute here now. To remove this problem, We first collect water from the tubewell. Then we keep them on the Sun. After then, we mix water purification medicine on it, but this homemade purification water can not remove our suspension at all. So, Sir, remove this suspension, we bought pure mineral water from our town and take them.' Haha. He didn't reply anything to me.
From the morning, I was planning to go outside to enjoy nature. For the last 7 days, I am confined in my house. I was so bored with this monotone. But I was not getting the scope to go outside alone. As my nephew always stays with me. He always keeps an eye on where I am getting out home or not. Whenever I wear my dress, he takes his dress to be ready fast than me. When I go outside, I never want to take my nephew with me as I have a bad habit of casual smoking. I don't want my nephew to know that. That's the problem. But My nephew is stubborn he didn't give me any chance of getting outside until afternoon. In the afternoon he was asleep so it was the perfect time to go outside alone. I knew what would he do getting up from sleep and not finding me. Somehow, thinking nothing in mind I went out to fresh my mind with nature.
After getting out of the house, I directly went to our field where I spend most of our time. It's almost late, I didn't get any chance to boat there. All the boatmen took their boats to a safe place and tied them with rope. Finding no scope of boating I was trying to enjoy the evening beauty. This was the scenario prevailing there. I took the picture where the powerless sun was playing with the waters.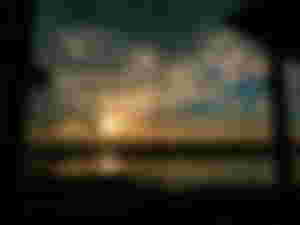 After spending some time there the sun disappeared keeping me alone. But I was sitting in there another, a few moments. The sun was not there but night fell there. The night was also enticing me to spend some moments there. But when the Sun disappeared the sky got very angry. It didn't take anything as usual. For a while, the sky became very cloudy. Stormy weather began to seduce the sky but It was predetermined that he would not hear anything. As a result, it was started to rain. At first, I thought it would be slight rainy as the storm was still prevailing there. But I was wrong, the time was passing it was getting heavier. The rain inundated everything surrounding it. Most of the fishes pond washed away. Fishes are now free. They can move anywhere now. Everything has two sides. The rain was so good for the fish. Now, they have not stayed in the confine pond. Here is another photo before raining -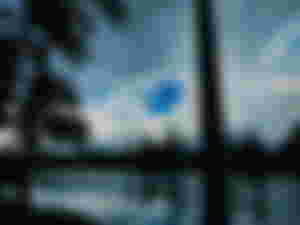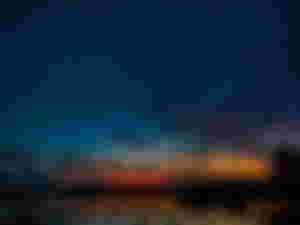 I don't have any photos of it at the time of rain or after rain. As the stormy weather didn't give me any chance of taking photos. It was very frightening.
Do I Finish it? No, the rain was not finished then. So, finding no way I had to come back home with the wet dress. I had to wet in the raining almost half an hour. As I didn't take an umbrella with me. Still, the rain is going on. I don't see any possibility of stopping it.
Lead Image: From Canvas,
I am there in the noise. cash: https://noise.cash/u/Delwar4644
Does anybody wants to give me any instructions, this is my Telegram -@HossainDelwar
Also here in WhatsApp: +8801741544091
My Facebook I'd link is also here- https://www.facebook.com/delwarhossaing
A few months ago, I discovered myself, in a mining app - minepi.com/Delwar62
Also Here-https://app.stormgain.com/friend/BNS79082903