Lets take a break at Aroma beach!
Hello guys ,what's up?
Students now are having a vacation ,and its a great time to have a family bonding.
And for today's blog ,I will be sharing a perfect place to have a family bonding amd its the aroma beach.
Aroma Beach is located at the town of Bato,Leyte Philippines.Its is near at the pier which is located at the center of the town.
The municipality mayor of Bato ,give this beach as free to all who wanted to get relax and swim.
Its free for all ,no entrance fee and no charges for using the cottages.Many people are going to this beach as its free and just a nearby located.
All you need to do is to clean up your mess and of course you have to bring food if youre planning to visit this beach.
Its not only offered a free entrance fee and free cottages but its offered you a soft gray sand ,wide swimming area ,a volleyball court for sporty persons ,grilling area and spots to have selfies and groupfies.
I saw a lot of post from facebook about this beach which is opened a months ago and since I am curios about it ,without histations I visits this beach alone and check what's in the beach before I take my kids here.
So here's some click I got during my visit in the said beach.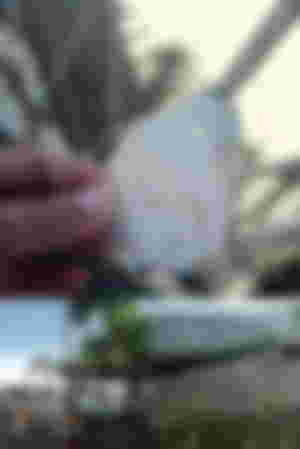 And I was amazed with the free food I saw ,the edible sea weeds or we called it guso.Maybe it came from the nearbt island which having a big plantation of sea weeds which they exported it in other country Am not so sure if it will be use for making rubber and gelatin.I only heard it from some people who works in the sea weeds plantation.
Note:I can't upload some the other photos but you can check it on my hive post.https://peakd.com/hive-163772/@mitch18/a-short-walk-at-aroma-beachbato-leyte-philippines
And that's it for today ,thanks for reading and keep safe on your vacation.