Don't point your finger at the rainbow, and it'll melt.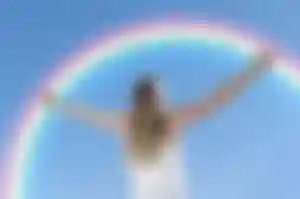 As a child, I often hear some older people, especially our neighbors, not point my finger every time I see a canvas of different colors or simply a rainbow in the sky. The reason that they always told me before is that it was going to melt.
Of course, it is impossible for that thing to happen because, in the first place, how will it happen? Does the rainbow have some laser to cut the finders down or an extremely hot substance that could instantly melt them down? The answer is none. It is just that it is something that grown-ups tell their children, so they won't go out and play in the rain.
How are rainbows formed?
It is a bit hard to answer, but based on science articles I have recently read, I have learned that every ray of light in the electromagnetic spectrum has its own unique angle of reflection. So when the sunshine touches some droplets of rain, there are lights that are being reflected. As a result of this dispersion, a rainbow is created.
When I learned how to write and weave words together to construct sentences and paragraphs, one saying I always liked to incorporate into my writing is the saying that goes like this: "There is always a rainbow after the rain."
What is more significant about it is that, from those contests I had entered before where I used that saying, I mostly won. And I can remember perfectly that in one of the most recent contests I entered, I bagged first place. It is in the Filipino category, but I used the counterpart of the phrase in the Filipino language.
Rain is always accompanied by a peaceful silence. Taking a peek at the sky after a downpour provides us with both mental and physical comfort. The light that diffuses after a rainstorm is a wonderful experience. One of nature's most beautiful creations, the rainbow, occurs just once every few years. Scattered light in seven subtle hues that stand out from one another against the backdrop of a breathtaking sky.
While thinking of rainbows, I wonder why they always have the same order. Upon reading a lot of things, I found out that wavelengths occur in an ascending order of radius. Optics and physics rules would have to alter from location to location in order for this to not be the case. Things like this are being tracked by a lot of individuals. There have been no complaints throughout all of this occurring up to this point. This may seem complicated, so to make it simpler, it is because the relevant laws of physics, as well as optics, do not vary on a daily basis or from one place to another.
Indeed, in life, as we go through our knowledge, we discover one cannot imagine how many shades of hue there are in a person's life. Because of the world's overwhelming darkness, man can no longer locate or seek color, light, or pleasure in his own life. The colors of the rainbow may teach individuals who are dissatisfied with their lives a lot. It brings hope that there will always be a tomorrow.
Overall, the appearance of a rainbow is one of nature's most stunning phenomena that doesn't need a long list of conditions. In addition, the attractiveness of its look is enhanced by the fact that it was unexpected. When it's a little gloomy outside, and the sun is peeking through the clouds, you can see a striking arc of color. The rainbow reminds us that not all beautiful things have to be costly or uncommon to be considered lovely. As a result, a lovely thing that appears out of nowhere will automatically fill your psyche with optimism, positivism, and contentment.
It is like the sun is right behind us, gleaming on some raindrops in front of us.