What is my favourite time of the day and why?
The most important time for a person is the time in which he finds happiness. And when man find happiness, he wants that time to come again. To find the best time, we need some self experimentation. There must be some time in the whole day when a person feels calm.
My most precious time is the time of MORNING. Getting up in the morning, freshening up and sitting on the lawn is my daily routine. I could be alone for a while when this time comes. When the cool morning air hits my face, it seems as if a person has been lost in it for a while. Sitting there, I also think the title of my article. Because there is no better place and time for me than this time.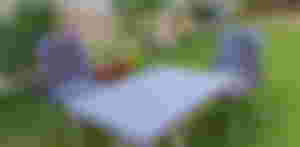 This place and the time of morning are perfect combo for me. I find the plants here the most attractive. Check out the greenery here guys. Anyone who is in bad mood will come here and feel calm for a while. Won't he? Obviously yes he feel calm.
What am I feel and doing here at the moment?
The natural light makes me energised.
I love sitting here and talking to myself at this time.

I sit here and have my breakfast.

I smell the flowers. And I believe that there is no better fragrance then the fragrance of flowers.

This time around, I think about the day's work that I have to do. Because I found my mind very neatly and peacefully in morning.

Walking barefoot on the grass at dawn refreshes the whole body from bottom to top.
This time is best time for me to concentrate and spark a new ideas.
That's for today. Many people will also be night owls. That time will be the best for them. Everyone has their own choice. The time when the person feels comfortable is the best time for him. Guys, I want you to give a little good news that I have eaten my own strawberry in my house today. Strawberries are not grown anywhere in our area, but my father and I grew them together at home. And today, after many days, I have received the fruit of my labor. Planting a plant and eating it's fruit give a different taste and pleasure. We never thought strawberry would grown in our house. But I was wrong.
Thank you so much for your precious time guys. I really appreciated you. I hope you spend your day with full of happiness and prosperity. Don't forget to help others because this small act makes your day very peaceful. Have a great Sunday.
Image source: My own gallery
This article written by me and yeah it's 100% unique.
Also check the articles of my beautiful sponsors guys. You must learn and gain some knowledge from their articles. Thank you so much my dear readers and sponsors. You encourage me to stay here and write articles.
Stay safe, stay happy and stay healthy. Have a blessed night.
Peace....