It's easy to say that "It is Haram to Commit Suicide..
We often hear of a man committing Suicide. The first thing we do after hearing this is that "man should not have committed Suicide". We are very sad to hear that. Every human being goes through sorrows, every sorrow must be fought bravely. We comment comfortably but have we put ourselves in that man's place and wondered that:
what was wrong with him?
Why did he do that?
What was the matter with him that he couldn't bear and attempt suicide?
What did someone do to him that made him take such a bad step?
Was he mentally okay?
How could he not care for his life and kill himself?
Many such questions came to my mind. Let me share a picture with you.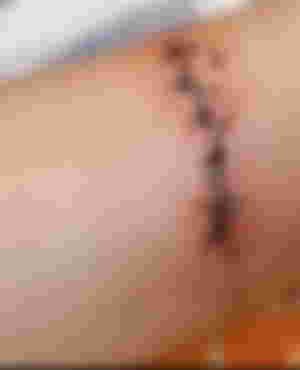 I did not take this picture from anywhere. This picture is of my cousin who tried to Commit Suicide. She says people forced her to take this step. It made her so mentally ill that it was not difficult but easy for her to take this step. She told me that when a human being is repeatedly mentally tortured, the human tendency automatically goes towards this step. She said that when she took this step, she did not remember her family nor did she think. All that was on her mind was to escape from this world and the torment of this world. And it is true that it is very easy to talk to a person who has committed Suicide but it is very difficult to understand his problem and get him out of trouble. We say that should not commit suicide because it is a sin. It is very easy to say that just like a person is addicted to drugs and to tell him to quite drugs. Will he give up drugs? No. There are many steps that can be taken to get rid of it. In the same way, the person who commits Suicide attempts needs to be taken out of the mental conflict. We should not advise people not to do this or that. Rather, we should hold the hands of such people and get them out of their mental pressure.
We should not take such a step in life. We should not let our worries overwhelm us. We must be brave and face everything. And if there is a person who is suffering from mental stress, we should get him out of this condition so that he cannot go ahead and take any wrong step.
That's enough for today guys. Thank you for your precious time. I really appreciated you guys. How was your day? I hope you spend your day with full of happiness and prosperity. Don't forget to help others because this small act makes your day very peaceful. Have a blessed Wednesday.
This article written by me and yeah it's 100% unique.
Also check the articles of my beautiful sponsors. You must learn and gain some knowledge from their articles. Thank you so much my dear readers and sponsors. You encourage me to stay here and write articles.
Stay safe, stay happy and stay healthy. Have a blessed day guys.
Peace. ..