In the wake of this pandemic caused by the covid19 disease too much people all over the world was heavily affected in the Philippines too many people have lost their jobs. And i'm one of those people so what i'm doing right now is finding ways on how to earn real money online and i'm very happy to find and become a member of this read cash website but aside from that my wife is also helping me to survived in this very big trial in life that all of us experiencing right now by cooking and baking some foods and selling it online and i'm the one who delivers it. So today i'll be sharing you one of her most ordered dessert and that is the Ube Cheese Turon.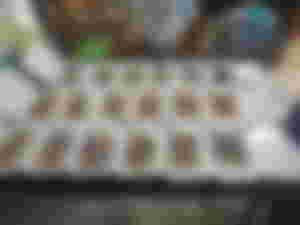 For ingredients that you will use you should have this:
Lumpia Wrapper
Cheese
Condensed Milk
Sweet Potato
Ube Halaya
Margarine
While for the procedure you must steam first the sweet potato and mashed it and put some margarine and condensed milk and mix with ube halaya that is ready made and some ube food coloring and mix it until become consistently thick make it cool for about 10 minutes. While you are cooling it prepare the cheese cut it in vertical and ready the lumpia wrapper. And when it is already cool you can now start to wrapped it in the lumpia wrapper just put one table spoon each of the ingredients and put one cheese each wrapped it properly and then Deep fried it until it become golden brown so your Ube Cheese Turon is ready. We are putting it in a styro foam 3 pieces and selling it 30 pesos per each styro. Thank you so much i hope you like my wife's Ube Cheese Turon.