I'm Turning 14 Years Old in A Week!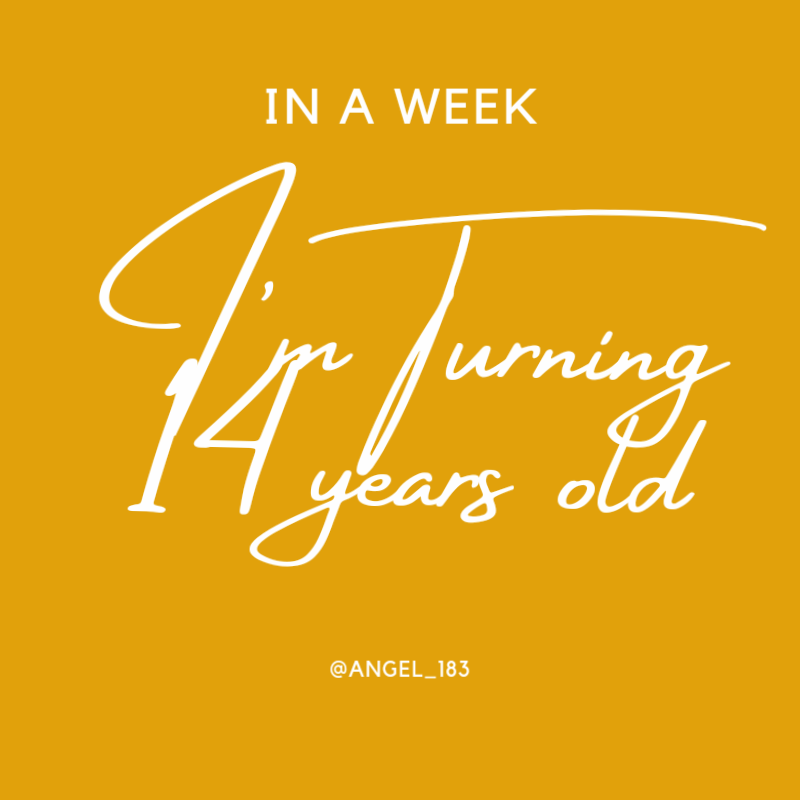 7 Days to go and I will be turning 14 years old. Time Flies Fast and it's my birthday again. I'm so glad that I'm still fine and healthy. Nothing Bad happened and we are still alive. Another year will add again to my life and happy what my life now.
I'm born on March 02, 2008. 1 week to go and I'm turning 14 years old. I'm planning to celebrate my birthday but I didn't need to spend so much money on my birthday. I just want a simple celebration and I didn't need to invite many people and have a party in our house. I want to celebrate for another year of my life that I'm still alive.
I'm hoping we can celebrate my birthday this coming week. We don't have a lot of money because my father doesn't have a job. I just want to cook Spaghetti and Shanghai for my Birthday if I have extra money. If there's no budget, it's fine and I will wait for the right time to celebrate it or I will celebrate it on my mother or father's birthday because we have the same month.
If I will Wish, I wish.....
To stay healthy - Who doesn't want to stay healthy, Right? I want to stay healthy and fine. I want my family to be healthy too and we are far from the virus that we encounter in the world. We are still alive and have no problems with our health.

We have food every day - It's hard to earn money at this time because many people lose their jobs and they don't have food in a day. I wish we can survive our daily expenses even my father has already stop in his work for a reason that I cannot say. Even my father doesn't have work, I wish we can still eat 3 times a day and they can have an extra income.

My mother's business will succeed - My Father Resigned from his work and they focus on our business. They sell peanut butter, alamang, and many more that they can cook to have an extra income even my father doesn't have work. I wish my mother's business will succeed and many people will like it. Then many people would order from us.

To graduate and pass my grades for this year - I wish I can do it and I can do all of my assignments for this school year. I can pass and move to the next grade level until I can graduate and my parents will be proud. So I can also help my parents with their expenses
That's all of my wishes. We are all healthy, we are fine and happy in our lives. We enjoyed our life and we love each other. To survive our everyday expenses and have an extra income to pay our bills and to have food to eat.
I thank GOD for the blessings that he give to me and my family. That we are still alive and healthy. For another year that will be added to my life. That he gives me a life every day. We have many blessings come in our life and we don't expect it.
I'm so thankful that we have already helped my family with our daily expenses and in doing our house even we still studying and even we are still students. We earned some money that can help my parents and myself too.
---
Thank you for reading my article ❤️❤️ I will end my article again and see you again in my next article. Hoping you will read my next article again💚😘. Have a Great Day everyone!!
Date published: February 23, 2022
Find me in my other account: