In reality, we always hear touching stories where an ordinary person can be a hero for doing unexceptional acts that contribute something valuable to the life of others. However, heroes can't be there for someone all the time. Heroes rest too, and they should have time for themselves mostly to regain their energy and be able to help others again.
On that note, here are the things you can do in order to be a hero for your own selves. With these things, it will show you some of the self-love tips that you should consider to be genuinely happy even with just yourself, speaking about your independence.
Always consider speaking kindly to yourself despite how naive you are (if ever) in doing such things. Even if you fail because of wrong decisions, don't feel bad and speak kindly to yourself in such a way that you're motivating yourself to do better next time so you won't come up repeating the same mistakes again.
Speaking kindly to ourselves will save us from frustration and anxiety, because instead of blaming ourselves from the negative things we've done, we choose to fill ourselves with positive or encouraging words that will blow away the negative vibes. With that, we are becoming a hero because we are saving ourselves from being drowned with negativities.
Failures can make you cry, and will lead you to be drowned in anxiety or worse, depression. So, instead of focusing on the failures, losses, and pains you experienced, let's rewrite those by making them appear as a positive lesson.
Let's keep those things as our reminders that despite the negativities we experienced, we got to rewrite those and make it as our motivation to do better next time, and be the best version we can be who can conquer everything as we are shaped by the obstacles we surpassed before.
In my previous article, I wrote about the things we should be proud of, no matter how small or grand they are. So, after knowing those things, just keep on being proud of yourself because it will keep you away from doubts and low self-esteem.
Being proud makes us confident, strong, and brave enough. On that note, we can be a hero for our own selves because we are saving ourselves from the stress brought by uncertainties in our life.
Instead of waiting for heroes to come, we can be our own kind of hero by loving ourselves fully. Self-love is the best hero we can have because it will save us from any negative things we can think of. Despite the challenges we're facing everyday, and despite the sadness we feel, if we love ourselves fully, we can still be optimistic to make ourselves happy.
With that, let's train ourselves to be independent enough for our own happiness. We can't guarantee that someone will always be there for us in every situation. So, we should start loving ourselves so whatever situation we're into, we can save ourselves from problems and sadness.
---
Author's Note:
As a sign of gratitude, I want to express how thankful I am to you, my readers. Thank you very much for those who keeps on supporting me with my articles, and I hope that even though my writing skill was not yet pro enough, you are still learning from it. I am very thankful also to my sponsors, I am hoping that you are all doing fine and for you to be showered with more blessings from above. 
May the good Lord bless you more with love and grace! 😇❤️
Thank you so much for reading! 💕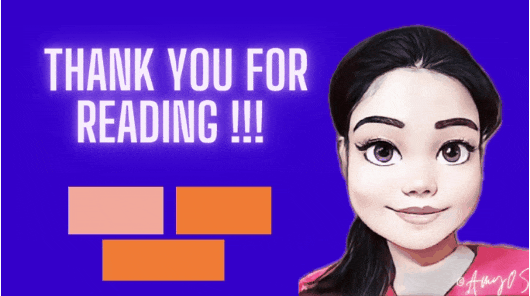 ---
Date Published: April 18, 2022
Lead Image and Gif: Originally edited by me using Canva