My upbringing is quite different from the people of the city, starting with the way of living day to day, from an early age, I was taught that the man who is born in the land of the plains, by their culture, is quite hardworking, getting up early to start the work of the day to day. It seems simple, but the character that this forges is quite strong, no matter how your day has been, if you feel bad or do not want to do anything. You have duties and we must fulfill them, as difficult as it may seem, that's how it is. I remember well, I had to get up early in, at that time my duties were like cleaning the yard, watering the bushes, arranging my room, keeping everything in order, feeding the animals (chickens, pigs, sheep) seems easy work, maybe? For a 10 year old boy this was already a pretty complete job. As the years went by, my chores became bigger and bigger, sweeping the yard, keeping the cowshed clean, cleaning my room, keeping the barn clean, I started milking the cattle, and I had to be a kind of veterinarian, taking care of the animals, as such.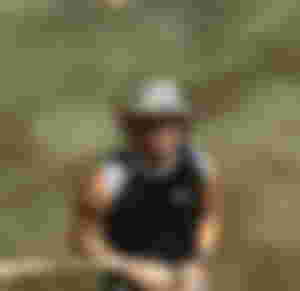 A day like this, brings many memories, since in this fishing trip, was a person who is no longer with us in the world of the living, on the one hand, I can say that this day was completely different from a normal fishing day, we had to walk for hours rolling to get to a camp, after arranging everything in the camp, we went fishing at night, if my memory serves me correctly, it was about an hour walking through a jungle that we did not know, we only trusted a guide, there was no signal to use GPS. It really was a unique experience, the only bad thing about this day was that we did not catch many fish for the time we had walking, what several guys did manage to do was to get drunk and live a unique experience.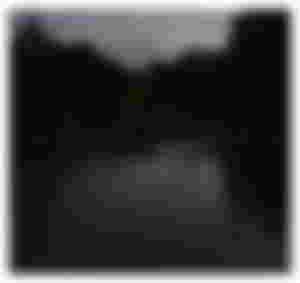 There are things that make a picture unique, as in the case of this photo, the lens of the cell phone and the flash of the same, made a kind of ring that makes it look like a kind of rainbow, in the immense quiet das that generates this river, accompanied by stories of roads, to spend the night, with a campfire next door, with friends and family was one of the best moments of my life, perhaps because I was not very used to.
I also remember that we went fishing downstream that night, looking for some catfish but we were not very lucky again, it is not very easy, this fishing. You have to be especially patient, and experience is essential, to know when a fish has taken the line, it's a matter of practice, sometimes you don't feel it, you end up losing your bait without even noticing it.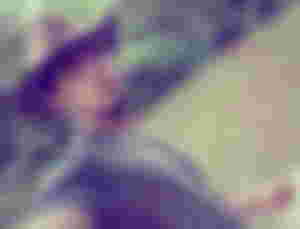 The next day with the best disposition we continue trying to fish again, as I mentioned before you must have a lot of patience when fishing, although the fishing is quite slow. There is not much movement of big fish, we are about to start thinking that there are no big ones, so we will go upstream in search of a lagoon which is said to be quite deep, probably there we will find some big ones, or at least that is what we thought. Things don't always turn out the way we think, but we have to be positive.
Although the weather was quite pleasant, the humidity began to do its thing, the heat was becoming unbearable and, what seemed bearable, was no longer so, at times I just wanted to be at home, without so much heat, but well we must endure what was necessary, it was only a few days. And a day totally different from what we were used to.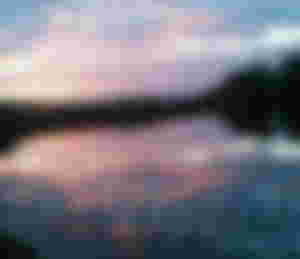 After walking for quite a while, we arrived at a lagoon that I mentioned a while ago and we found this magnificent view, impressive this image, reflected in the water. I love this, no doubt being in an explanation only reaffirmed what I feel for this kind of places, it is beautiful.
Here we had better luck, despite the fact that everything seemed contrary, after several hours, the actions began and the fish began to eat, they pulled out big fish.
Here we lasted a little more than 4 hours, and then we went home. To cook, we can't complain, mother earth was quite good to us in providing us with food.
After arriving home and arranging all the luggage, we didn't really go very far, we stayed that night at a ranch of someone very well known to my dad, he invited us to spend the night.
This night she did not come alone, she brought with her a companion, a beautiful bull, very tame, I dthink that more than a dog, you could ride him and nothing would happen, to enjoy things like this, to be in contact with animals like these, it fills you with full life, something incredible really.
The beautiful thing about nature is that everything has an attraction, whether it is the birds singing, the bees looking to collect honey, the ants working as always to bring food, the cattle looking to get together and between all of them to take care of predators, the milking cows calling their calves. The sound of man making a daily living on this immense plain. Everything has its own beauty. 😍
I could not miss a photo with my colleagues, here it was in a different place, it was in a llanero dawn, that is, it is a kind of event where people attend to hear other people sing, the music time is llanera as such some of the singers who attended were.
Vitico Castillo

Jorge Guerrero

Teo Galindez

Reynaldo Armas

Fernando Tovar

Luis Silva
All these are the best exponents of folklore (llanera music). This dawn was the best because I could listen to the best of the best. Sharing with my loved ones, drinking lots of rum, enjoying this night to the fullest.
The "llanero" of Venezuela has a very different culture than the city dweller or well I guess everywhere this cultural difference is obvious. The nice thing about each country is that there are people who still support our culture as is the llanero music, the old school upbringing, the man who works and not the lazy one who does not like to do anything or does not know how to do anything. The lifestyle is also very peculiar, we are people who spend most of the day working in the llano no matter what.