Carrot salad with sprouts and sesame seeds and Dumplings with cabbage recipes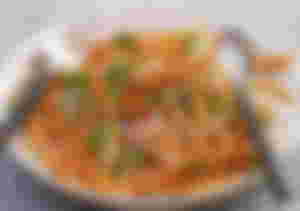 This salad is completely different from our traditional carrot salads, which are usually dressed with mayonnaise and mixed with garlic, grated cheese or nuts. It is very fresh and extremely useful. The yolks of boiled eggs, together with lemon juice and vegetable oil, turn into a dressing, and the proteins, together with herbs and sesame seeds, decorate and enrich the carrots.
3 large carrots (500 g)

50 g of any sprouts

4-5 sprigs of cilantro or mint (15 g)

3 tsp roasted sesame seeds (12 g)

2 large eggs C0

1 tsp lemon juice (15 ml)

50 ml vegetable oil

1 tsp dark sesame oil

salt
Step 1
For dressing, boil eggs in boiling water with salt, 9 minutes. Transfer to ice water, then peel and remove the yolks. Beat with a blender or grind lemon juice, vegetable oil, a little salt and egg yolks in a mortar until smooth. Add sesame oil.
Step 2
Grate the carrots on a coarse grater and salt. Mix carrots with sprouts. Cut boiled squirrels into strips. Remove the green leaves from the branches, fold in a pile, roll into rolls, thinly slice.
Step 3
Mix all prepared ingredients and drizzle dressing over salad and sprinkle with sesame seeds. Let stand 10 minutes, then serve.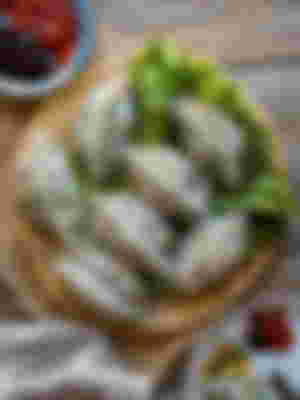 Dumplings with cabbage are cooked infrequently, which, in our opinion, is a big omission: they are not only very tasty, but also "lighter" than meat ones. That is, if you follow the figure, be sure to pay attention to this recipe! The filling of dumplings in it is proposed to be prepared not only with fresh, but also with sauerkraut. Thanks to this, their taste becomes more interesting, rich, even spicy. But in this case it is better not to overdo it with sourness, so sauerkraut should be soaked. There are no difficulties with the dough: the main thing is to knead it very carefully so that it rolls out as thinly as possible. And then you get the perfect dumplings, with lots of delicious stuffing in each!
sauerkraut - 200 g

fresh white cabbage - 500 g

large onion - 1 pc.

garlic - 2 cloves

vegetable oil - 40 ml

cumin - 1 tsp

drinking water - 100 ml

freshly ground pepper - to taste salt
For test:
flour - 600 g + a little more for rolling out the dough and forming dumplings

salt - on the tip of a knife

egg - 1 pc.

drinking water - 240 ml
Step 1
Dumplings with cabbage, kneading the dough
Prepare dumpling dough. To do this, sift the flour with salt through a fine sieve with a slide. Make an indentation at the top. Crack an egg into it and pour in a couple of tablespoons of water. Knead the dough by gradually adding the remaining water.
Step 2
Dumplings with cabbage, dough preparation
Knead the dough by kneading it, twisting it and beating it on the table. This may take about 15 minutes. Then let the dough rest by covering it with cling film (30 minutes).
Step 3
Dumplings with cabbage, chopping ingredients for the filling
Prepare dumpling filling. Squeeze the sauerkraut and place in a bowl. Pour cold water over and leave for 20 minutes. Chop the white cabbage very finely. Peel the onion and garlic, chop finely.
Step 4
Dumplings with cabbage, filling preparation
Squeeze the sauerkraut thoroughly. Finely chop. Heat oil in a large frying pan. Add the onion and lightly brown while stirring. Add sauerkraut and fry for 5 minutes. Put white cabbage. Stir. Salt and pepper, season with cumin. Pour in drinking water and quickly bring to a boil. Simmer cabbage over low heat for 15 minutes. Let cool.
Step 5
Dumplings with cabbage, modeling dumplings
Roll out the dough very thinly on a table dusted with flour, and cut circles out of it. Spread the cabbage filling over them and fold in half. Pinch the edges of the dough carefully. Bring water to a boil in a large saucepan and season with a little salt. Dip dumplings into it and cook for 3 minutes after they rise to the surface.
Thank you so much for reading my article.🎉🎉🎉🎉🎉