Final Destination of San H.
while scrolling on Facebook newsfeed one incident caught my attention and it is about the sudden death of a famous prankster blogger known as San H, He is one of the pranksters that I followed due to his unscripted pranks that will make me laugh every time I watch his videos pranks. I'm one of his subscribers who kept on following his latest videos upload.
San H. is one of the famous bloggers due to his public pranks that will make everyone laugh, he gives more happiness to all the people who followed him and support him. It is a very shocking incident that the person who gave good vibes and happiness to people will die.
I can't imagine that the person I usually saw on Facebook due to his funny vlogs will unexpectedly disappear forever in this world. He gave happiness and good vibes to the people who followed his funny pranks but in this time happiness disappear and sadness come in exchange for all. As of now, I didn't read any reliable statements about how he died and what is the causes of it but there a rumor that San H drowned in a river that cause the sudden death of a famous vlogger.
I know that I was a bit late to know in this incident due to the poor connection in the area where I live in a boarding house, I don't have a lot of time visiting facebook but a while ago In my leisure time I scroll down on Facebook and this incident made me feel sad that one of my favorite prankster's vloggers died.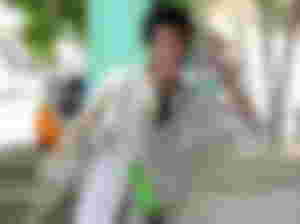 I just can't forget how this blogger made himself like a crazy one just to make the prank successful and to catch some viewers. I like his videos because of the nontoxic content of pranks that will only bring laugh and vibes to the viewers. I can't forget how he turns himself into a crazy person in that bad attire but in the end, he will catch or can get the attention of beautiful girls.
This incident made me think and realize how unexpected the final destination of every person is, it made me realize that there is no exemption about death anyone is capable of dying Chilteenagerage, Old, poor, and even a famous person will die. There is a lot of realization after what I saw about the death of San H.
Life is too short
Life is too short, we only borrowed this earthly body we live only in a short period here in this world. Time flies so fast, we can't stop time to pass every day. while time flies in its axis our physical appearance will change too, time flies so fast, it is just like yesterday that since we're all children the only problem is playing with friends but now we face the reality of life and the challenging point life. Life is too short to waste useless things most especially the things and people that will make us sad. I realize that life is too short so Just enjoy and live every second of it.
Everyone will die
Dying is the sad reality of human beings, dying means leaving his world forever, no one is expected on it, everyone is capable of dying poor and rich will die, child and adult people will die, all human beings will die in its destined time. No one can stop dying. Dying is the nature of human beings after we are born in this world. We will all die physically, our flesh will turn into ash and we will go back into the mud.
Death is timeless
death is a timeless scenario, no one can predict the final destination of a person, it will happen anytime to us while seeing the sudden death of San H made me realize that we must treasure life in every second of it coz no one can predict when to happen the final destination of a person.
Ageless
Death is for everyone, this is the sad reality that not only old people are usually prone to dying but there is no such age in it and even a child and teens will die too.
Treasure life
While seeing the sudden death of San H, made me realize about giving importance to every second of life is. We must treasure life, we must live like there's no tomorrow in it, coz as we all know that no one can say when our destined final destination in life is.
Hello everyone how was y'all, Anyway thanks for dropping by here.
LIVE
LAUGH
LOVE
GOD BLESS US ALL.
LEAD IMAGE AND PHOTOS FROM FB