Should I enrol Her now or not?
July 7, 2022
Busy with shopping at online readtizen? Its 7.7 midyear sale on shopee at lazada but I dont feel like buying anything today, why? maybe because of the current situation of our market, masyado mababa to convert and buy this or that.,tho I have money with me but im using it with my small business(Gcash in and out and eloading) kaya no budget for shopping online today, business first before wants...naks serious lng me hihi..
Anyways that is just my introduction, coz I have another topic to discuss and its about Adrielle.
The other day we went to the house of my partners cousin coz they have a small party because thier youngest son graduated senior high school and they invited us to join them or makikain kami haha..then after we get our food I went to the sari sari store of my partners brother dun ako kumain coz the venue is so crowded with manginginom, then kain and chicka chicka lng.
Then one of the people at the sari sari store is Ma'am Liza, she is handling a daycare students but on the other barangays coz she was transferred last year coz of the certain issues of the teacher from that particular barangay kaya pinagpalit sila.
She asked me this question,
M'Liza : how old is Adrielle now?
Me: 3 and 7months
M'Liza : so she will start her schooling this year?
Me : nope, too young Ma'am
M'Liza : pede na yan, atleast she can start learning already and besides its a modular class pa din naman, and every 3months lng magmeet with the teacher for assestment.
Me : im lazy Ma'am
M'Liza : thats the problem with parents, tinatamad kayo😬.
Me: (just smile)
==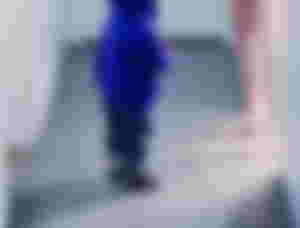 My point why I dont want her to enrol yet is, she is too young to force to study, coz my observation with Adrielle is she is more on playing with her toys pa, yes sometimes she starts writing and doing some drawings but she gets tired immediately, thats why I dont think she will be enjoying her student life, kahit pa sinasabi nya she will go to school already I know she is not yet prepared, and another is modular pa pala, maybe if it will be a face to face, I will enrol her so she can start to mingle with others and we will be a part for hours, masasanay na sya, eh kaso modular di ganun din, what if she don't like to do her module, so I am oblidge to do it coz I need to pass to her teacher so ako din ng nag-aral not Adrielle diba.
And I remember M'liza story about her student and parents, diba day care nga ang hawak nya, so expect that their works are not that good especially when it comes to coloring, so ayun nga the parent pass the module of her daugther, then when M'Liza check it, upon looking pa lng daw she already recognize who did the module coz the colors of the drawing are not over and under, and she advice me wag daw ganun dapat.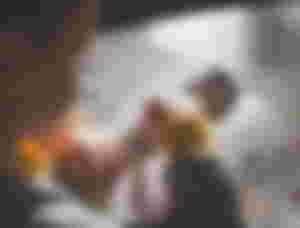 Then one more thing is, student life is very long imagine from daycare to senior high school then college days pa if afford, for me parang nakakadrain ng utak ng students, yes for real I am not in favor of K-12 if the pandemic did not hit us, but now I am lalo na if they will be having a face to face kasi nga need ng mga student ngaun dahil marefresh sila kahit papano before they start thier college journey, coz I know for sure(but not all) there are alot of students who gain only a little knowledge during their modular class kasi iba ung naipapaliwang ng teacher ng personal diba, ung ngang face to face before nahihirapan tayo un pa kayang modular na self understanding and studying mo lng diba,and take note some of the students na nagsasgot ng modules ay nakabase sila kay google and theres an app that they used, where they can recite the question and the app will give the answer(nakalimutan ko tawag nila) thats for real coz my neighbors are doing that when they answer thier modules before.
==
I hope you get my point why I am not eager to enrol Adrielle now, but I know we have different views and perspective in life kaya I respect yours about this matter.
But I already asked my partner and he did not answer me yet, so I'm in a half half situation pa if I will enrol her or not, but I am more on not to enrol her this year, but lets just wait and see hihi.
How about you mommies and daddies out there, if you have a toodler with Adrielles age are you going to enrol her/him this school year? You can leave your answer on my comment section, and even if you are not yet mommy and daddy you are free to share you thought on my question. Thank you!