Random and random
November 23, 2022
Its been how many days that he did not pay me a visit even just for once huhu, I felt sad about it but I know the reason behind this is the bearish market and am not a good writer either so I understand him even it hurts bwahahaha, and I know that its not only me who he ignore, there are some of writers too, I feel somewhat demotivated but I know it wont help, and instead of stopping, why not continue to write, who knows this random caught his attention and leave me with some gifts, kapit lng ika nga and try and try hanggang mapansin ka nya uli.
As what I've mention this is just a random article about todays ganap.
As I posted in noise.app that we will attend the mass this morning, the priest will be the one to drop here in our place and the mass will be held in the chapel near us.
Everytime that there will be a mass in the chapel near us, I take the chance to attend together with my lil girl as we seldom attend mass at the city.
So we prepare early today, after I clean the house and frontyard I take my shower then after me, I shower the lil girl, as she was excited to attend mass either kahit malikot.
We went there around 8:45am but the mass started around past 9am.
While reading the intented mass Adrielle talks and my gulay her voice were overheard in the whole chapel lakas kasi ng boses nya and a lay minister came and told her to keep silent, and there she smile.
As the mass continue, she behaved not so well but ok, and she just keep drinking water and whenever we sing, she was acting like she wants to sing too but dont know the lyrics but I can see how she tried by just opening her mouth and following me, which I feel happy.
Then during the OUR FATHER SONG/AMA NAMIN she was eating her biscuits but she saw us opening our hands while singing so what she did is put the biscuit on her mouth and even she was just sitting down she open her hands like what we are doing and did not put it down until the song/prayer is finish, seeing her even with simple activity makes me proud of myself as her, because I know this simple act maybe her practice as she grew up.
After the mass, she blessed with the priest and the priest greeted her and even said VERY GOOD BECAUSE AT YOUNG AGE SHE ALREADY ATTENDING MASS(maybe she saw her during the Ama Namin since we are seated infront), and ask if Adrielle is already studying, and how old is she, and when I replied that she will start her schooling next year, the priest said Gandang estudyante naman nito next year, of course as her mom those compliments matters to me very much.
Then the priest blessed also the celebrants of November and then he insist to get some picture taking before going home.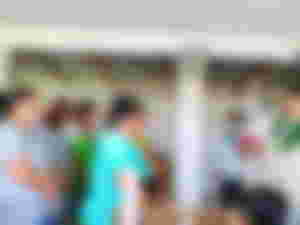 The priest is very friendly and have a good voice and how he delivered his homily is not boring as he always relate every bit of it to our life.
This is the song that the priest sings for us before he deliver his sermon. Very powerful song to all of us who are going through a tough, hard struggles in life. WE SHOULD LIFT IT UP TO GOD and HE'LL SHOW US THE WAY.
I love this song too, so while the priest is singing, I am singing in my seat also.