Believe it or not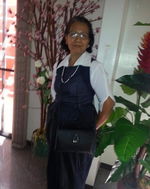 There are things that happens in our lives, that sometimes we are puzzled about . We may thought that it was just a coincidence and nothing more.
I will be sharing to you what was shared to me by the widowed wife of my relative, which she herself wasn't sure to believe it or not for what had actually happened with her firstborn child.
One day as i was resting in the terrace , she passed by and dropped by to have some talk for we have not seen each other for quite a long time.
We know each other for quite some time but we're not talking as too personal like her love life. It was only at this moment that I dare to ask her about it. And she answered me with much eagerness.
According to her she was invited by a friend in our place during the fiesta celebration and there she met my relative. She was in a relationship with a man in their own Baranggay. Accdg. to her my relative knew about it , but then my relative befriended her for my relative had fallen in love with her.
Accdg. to her there was a time when her boyfriend told her , that if ever happened that she would marry another man, their first child will not be a profitable one. To this saying, without minding the seriousness of the matter, and thinking that it was only a joke , she agreed in a joking tone .
To make the long story short, the time came that she married my relative , because my relative had beguiled her. She was only eighteen years old at that time.
Not long after she was married , her previous boyfriend also got married.
It came to pass that when she had given birth to her first child, a baby girl, it turned out that it was a PWD. The child grew physically fit but mentally speaking she was not. She is not performing accdg. to her age ability. They had other children but the firstborn child is the only unprofitable one so to say.
So, she was reminded of the saying that her previous bf uttered. It actually did come true not only to her but in the same way with her previous bf too . She was told that the firstborn child of his previous bf was unprofitable too.
Having the same fate with their first born children, accdg. to her, when the time came when she and her previous bf met in a fiesta celebration, they both confessed and asked forgiveness to each other. And since then , accdg. to her , the firstborn child of her didn't became worst, but became manageable to handle.
Up to now , accdg. to her , she can't comprehend whether is it because of what has been said by his previous bf or just a coincidence .
What can you say, dear reader?
Do you believe in curse or not?
#2 Article for month of July, 2022
Title: Believe it or Not
Published: July 26, 2022 - Tuesday