Late night article
I was struggling against time earlier to write an article. At quarter to six, I was called by a co-worker that the boss, our boss wanted to see me.
I did not feel any worry, I did jot have any sin against him or the company but I really wondered why I was called. So I saved the article that I am currentlly making in the drafts and closed all the tabs and went where I was called.
I used long strides in climbing up the stairs, the main office was on the second floor from where we are using and one of the room there was the boss'. I asked Rods, she was the one to call me and signalled me to get in.
I greeted the boss good afternoon and he smiled looking at me, complimenting that I have gained weight, and called for mam Rona so the three of us can talk.
He was talking about Neovia, a tolling partner because they wanted to split the billings from the current bill that I do. We bill them the produced bags in its corresponding price, less the price or the raw materials that they supply and wan6ed to change it to bill all the raw materials that we supply and the toll fee separated. The boss thinks it was a hassle, one is that we were used to doing what we do now and he is avoiding adjustments.
I just checked my gallery but the stolen shot that I made earlier was not on the gallery.
All the reasons gathered not to have a go signal, we were dismissed at 6:24. But while in his office. I had a splitting headache making me massage my forehead. Since this morning,I felt the headache bit it was gone after I took a bath. I only ate a few spoonful of food at home for breakfast and had another meal at the office at 10 am. That meal was supposed to be my lunch but I felt hungry and ate it and bought another set of meal for lunch at 12 noon.
At 12:30, I went to sleep above on the newly arranged riso papers and listening to the piano Ed Christian hymn. The alarm sounded at 12:57 but the sleep felt like it was 8 hours.
---
I hurried to go home,husband cannot get me from work since his motorcycle was being deposited since he was not able to pay for the monthly amortisation for two months. The allocated money was being borrowed by the barangay kagawad and she was not able to pay for it on time. But that's another story to share.
It was having rain showers when I went out, but before that, I tried to pee because my bag is about to burst but it was locked. I can't even remember if I was able to punch out in the biometrics for the time out but duuh, all I wanted was to go home already.
I was amazed by the beautiful sunset view in the west so I took a few steps forward to get a better view without the heavy machinery blocking.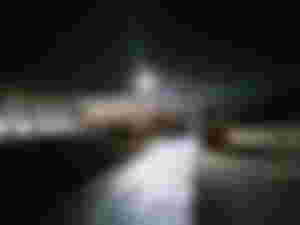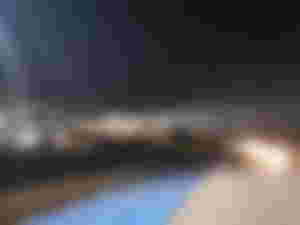 Because I was busy with the picture taking, I missed the multicab to go home. Good thing there was a tricab a little later and took me home.
At home, I had another set of splitting headache. My husband went to the store twice but forgat about buying me medication. I felt sorry for him so I didn't let him buy anymore.
He went to report for duty at 8:30 and my eldest daughter went to my mother, we had house side by side and put Chielly and Czak to sleep. I too fell asleep and had a dream that I was on the work place about to go home, but the busses were not stopping for me so I could have a ride home.
Maybe I was disturbed of my sleep and woke up. I was gald I did, but headache kicked again, but despite tagt, I got up and went to get water from the kitchen.
Recently, a few people That I know of passed away, one from a heart attack and one form a tragic road accident. I was a little worried about me passing dying, my kids still needs me and maybe interpretated that those bus did not let me ride on them because its not my time yet. I am not te kids of person that gives meaning to every dream: I fact, I remember so few of my dreams because they are fine as SOON as I wake up.Well, I was just expressing my thoughts her about it now, it's kind of disturbing but maybe I dreamed about it because it happened earlier.
I pullout my phone frome being charged and now I am writing a late night article. My head might be aching, I wonder maybe it was because I had another binat o bughat because I had been sleeping only a few hours in the past nights and was having delays on my breakfast. Or might be the lack of caffeine consumption during the day, I cannot remember having a cup of coffee since yesterday afternoon pala! I hope it will be gone soon.
Lord, heal me, please.
This would be all for now, ill be going back to sleep. Goodnight
Sponsors of yoieuqudniram