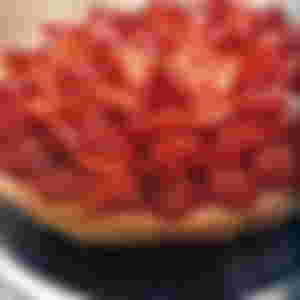 1 9-ounce bundle chocolate wafer treats, broken into pieces

½ cup (1 stick) unsalted spread, softened

Cheesecake Filling

1 pound great quality white chocolate, (for example, Lindt or Baker's), finely cleaved

4 8-ounce bundles cream cheddar, room temperature

1 cup sugar

¼ teaspoon salt

4 huge eggs

1 cup acrid cream

½ cup whipping cream

2 tablespoons vanilla concentrate

3 1-16 ounces crates strawberries, hulled, divided

½ cup apricot jelly

2 tablespoons cognac
Bearings
Position rack in focal point of broiler; preheat to 325°F.
1. Margarine 10-inch-distance across springform container. Wrap outside of container with foil.
2. Finely granulate treats in processor. Include dissolved margarine; measure until scraps are sodden. Press morsels onto base and 2 creeps up sides of container. Heat until set, around 15 minutes. Cool on rack. Keep up broiler temperature.
1. Mix white chocolate in head of twofold heater set over scarcely stewing water until softened and smooth. Eliminate from over water. Cool to tepid, blending sporadically.
2. Utilizing electric blender, beat cream cheddar in enormous bowl until fleecy, around 3 minutes. Steadily include sugar, at that point salt; beat until smooth. Include eggs 1 all at once, beating great after every expansion. Include acrid cream, whipping cream and vanilla; beat until very much mixed.
3. Heat cake until top starts to brown however focus actually moves somewhat when skillet is tenderly shaken, around 1 hour 20 minutes. Open stove entryway somewhat; turn off broiler. Leave cake in broiler 30 minutes.
4. Chill cake revealed for the time being. (Can be made 2 days ahead. Spread; keep refrigerated.)
5. Run little blade between skillet sides and cake. Delivery skillet sides.
6. Beginning at external edge of head of cake, mastermind strawberry parts in somewhat covering concentric circles, covering top totally.
7. Mix jam and cognac in hefty little pan over medium warmth until blend bubbles. Strain jelly. Brush coat liberally over strawberries, permitting some coating to trickle between berries. (Can be made 4 hours ahead. Chill.)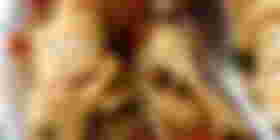 Olive oil

4 hot Italian wiener joins, housings eliminated

1 enormous onion, quartered and cut meagerly

1½ teaspoons salt

1 teaspoon Italian flavoring

½ teaspoon split dark pepper

1 red ringer pepper, cored and meagerly cut

1 yellow ringer pepper, cored and meagerly cut

1 orange ringer pepper, cored and meagerly cut

4 cloves garlic, squeezed through garlic press

½ cup white wine (I utilized Chardonnay)

1 (28 ounce) can diced tomatoes with juice

2 tablespoons level leaf parsley, cleaved

¼ cup new basil leaves, julienned, partitioned use

8 ounces Pappardelle noodles, uncooked
- Place a huge, hefty base skillet or braising pot over medium-high warmth; include around 2 tablespoons of olive oil, and once the oil is hot, disintegrate the hot Italian hotdog into the container in little lumps (you need to keep the wiener genuinely stout), permitting it to brown in the oil for a couple of seconds on each side; when the disintegrated frankfurter is seared, eliminate it from the dish/pot with an opened spoon and spot into a little bowl to hold for a second; next, include the cut onion into the container with the wiener drippings, and permit it to caramelize and get brilliant for approximately 5 minutes or somewhere in the vicinity, mixing to shield it from consuming (include a touch more olive oil, if essential); when the onion begins to get brilliant, include the salt, Italian flavoring and split dark pepper, and mix to join, at that point include the cut ringer peppers, and permit those to saute with the onion for around 2 minutes until somewhat delicate and brilliant; next, include the garlic, and once it gets fragrant, include the white wine and permit it to decrease for a couple of seconds, until totally diminished; next, include the diced tomatoes with their juice, and return the carmelized zesty Italian frankfurter back into the skillet, and tenderly crease the blend to consolidate; permit it to delicately stew for around 3-4 minutes to mix the flavors, at that point turn the warmth off; to complete the sauce, shower in around 2-3 great tablespoons of the olive oil to make a sleek, rich flavor, and include the cleaved parsley and about portion of the julienned basil; mix, and keep warm while you set up the noodles.
- Prepare the pappardelle noodles as per guidelines on bundle; at that point, channel the noodles well overall, and include them straightforwardly into the sauce, utilizing utensils to delicately throw and consolidate the pappardelle noodles with the sauce and the entirety of the fixings in it; check the flavoring to check whether you have to include any extra salt or pepper.
- To serve, include equivalent parts of the "Plastered" noodles to bowls, and trimming with a sprinkle of the remaining julienned basil; you can even finish off with shaved Parmesan, whenever wanted, and an additional shower of olive oil