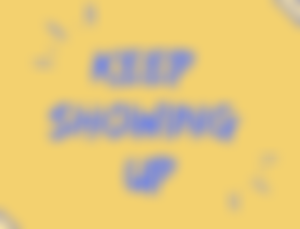 Showing up means to be present at the moment and being consistent for things that matter. Showing up could be small but it's incredibly a powerful action. If you don't know, showing up boosts your confidence level and enable you to build a resilient spirit to go after things in life that bring you joy.
Since the beginning of the year till now, can you take a pause to analyze how consistent you have been in the promises you made to yourself to achieve certain goals? Tell me, how consistent is your show up game? Did you start only to stop halfway? Did you build up walls of excuses not to show up?
I need you to sincerely answer those questions. However, if you dismiss the questions, I would like to remind you that, consistency is a factor that defines your personality and earns you respect around people. You would be seen as a person who knows what he or she is doing.
Guys, keep showing up, keep going back, No matter what. If it's not visible that you will see the result anytime soon, keep showing up until you see the desired result. After you see the result, keep showing up!!!
If you're tired, keep showing up!
If you can't see the change, keep showing up!
Be committed to being consistent in all that you do and trust God to help remain faithful in your consistency journey. He will show up. He always shows up!!!