I was born into a Seventh Day Adventist family. We inherited being Adventists from my Grandmother's Mother. And my Grandmother, I can say, is a very strict Adventist, all taboos must be followed.
We Adventists eagerly awaits for the second coming of Jesua and we believe in the Holy Trinity. We also believe that death is juat like a state of someone sleeping, and the dead will be resurrected at the 2nd coming of Jesus and will be judged with those who still lives based on our achievements here on earth. We believe in creation and we know who our Creator is. We follow the 10 Commandments of God, especially the fourth commandment "Remember the Sabbath Day to keep it Holy", that is the very reason why we are in church every Saturday and studying God's messages because He has rested and blessed the seventh day of the creation week.
Our life was simple, it has became our routine that every Saturday we would attend church worship services. When I was a child, I already know how to sing songs to the Lord and memorize Bible verses because we were taught in our Sabbath School.
As Adventists, there are many things we don't do and don't eat, a lot that other people usually eat. Just like drinking, not putting make up on, smoking, dancing/disco, going to bars, going to the movies, working on Saturdays, going to school on Saturdays. Not eating pork, seafoods such as crab, squid, shrimp, octopus, shells, and fish without scales.
I've grown up with these things so I'm used to it. Some people say that our denomination is great but there are too many restrictions hehe. That is true because it is written in the Bible especially the restriction in foods and we strongly believe in that.
You could say my life is too boring but it's fun enough for me. I finished school — boarding house-grocery-church are the only places I always go to. But as I get older I'm curious about the many things we don't do. Just like smoking, because I have a "gay" roommate who used to smoke, I also got to light a stick and smoke it but I just coughed and I didn't like the taste of it. I've never tried smoking again since then.
So when I got into my first job, (I'm a lecturer in the satellite branch of the University here in our island), I was 22 years old, I tried to hang out and drink. My friends are also my students, they seem to have influenced me. My first drink was when we went to the mainland for our Intramural Meet. At night we would get drunk hahaha so we lost the games in the morning. Seems like I am enjoying every bit of it, I did it for 1 year, if we have time to jam, we drink. There was also a time when we had a fieldtrip in Boracay Island, also with the students, I also tried to go disco dancing there hahaha.
Then I resigned as a lecturer, applied for a job in Boracay, and while I was applying, my cousin took me to disco every time they went out, dancing and drinking drinking again. Not until I was hired for a job and I stopped drinking during my 6 months work in Boracay .
I came back here on our island and applied for a job in the government and that's when I fully stopped toiling around. I turned to God, I never got drank, went to discos and hung out.
My life is simple now, just how simple it was in the beginning. I also go out and jam with my friends but we just eat. My friends know I don't drink and they are aware of what I don't eat. So they just adjust in the sitiation. Of our friends, 3 of us are Seventh Day Adventists, and 5 are Catholic. And my heart is so happy and grateful to have them as my friends.
I am now active in serving God and doing His ministry with my family. I pray that my faith in Him will grow even stronger and that my daughter will love Him as much or more than I love Him.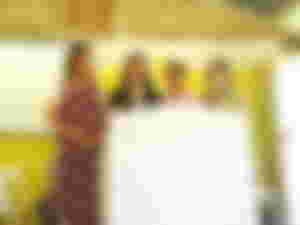 -Owari