My Morning Exercise - best part of the day.
Date:- 3 August, Wednesday. 2022
Assalamu'alaikum everyone. Hope everyone is well and healthy. By Allah's infinite mercy I'm also healthy and pray to God for recovery for those who are sick . I'm here with another new article which topic is about My Morning Exercise. So let's get started...
Morning exercise is the best way to keep our body healthy and fit. It's not only keeps our body healthy but also our mind. After exercising in morning, the whole day can be spent with a healthy and beautiful mind.
In a video on Facebook, a doctor said that people who sleep late at night and wake up late in morning are more likely to die prematurely. After listening to this I wake up earlier in the every morning. But currently 80%-90% percent people wake up lately in the morning which is absolutely not good for the body.
I usually wake up during the Fajr Azan and after the prayer, first I freshen up by washing my hands and brushing my teeth then put on my shoes and clothes and go out on street for exercise. There are a few specific places for exercise in our city and one of them is near our house.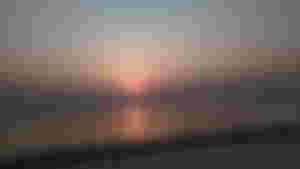 After reaching there by walking for 5 minutes, such a charming scene first appeared before my eyes. This place is located on the banks of a big river of our country. Sun was just beginning to rise. Cold wind blows all around and warms my body. After seeing this charming scene my exercise started.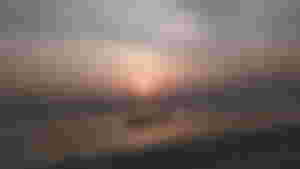 The road in the place is about 3 km and all along the river bank. A few small boats or big ships can be seen in the river after walking a little distance. Red light of the sun, sound of the ship and cool breeze make the moment more beautiful.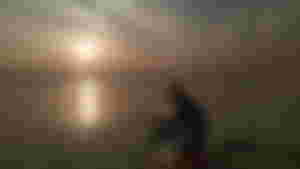 After walking a little more, some people can be seen fishing with spears in the river. This moment is the most enjoyable for me. A perfect combination of such a charming morning sitting on the river bank and fishing. For the moment I thought I would join him and fishing.
(Video first uploaded on MAIN: crypto social network)
As I approached the fisherman, he caught a big size fish. Then put that fish in a net bag and put it in water. Later I captured a video of that moment when he was throwing the spear into the water which was really a wonderful and captivating scene.
Then while walking I reach the end of the road and there are some small houses with nice arrangements and canopies for sitting. Also there is quite a bit of empty space. After walking I do some physical exercise there and roam around.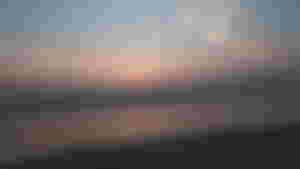 After finishing physical exercise I left there but ran. From there I ran all the way back to the starting position and once again enjoyed the mesmerizing views as I came.
I stop at the starting position but still I don't stop exercising. There is a big size staircase in that river gorge. Then I climbed those stairs several times. I like doing this because it helps me run faster. After climbing the stairs, I ran straight home. And this is how I do my morning exercises.

This place is located in our city and many people come there every morning for exercise but most of them are elderly. Only a few people of my age can be seen.
Based on this I thought that most of us stay away from exercise when we are young. But when we get older, we give more importance to do exercise.
Why is this because we do not take care of our body when we are healthy but when we are sick we start taking care of our body more which is not right at all. And that is why most of the elderly people there suffer from various diseases and one of them is diabetes. Older people get this disease and start exercising but if they had been exercising since they were young they were not affected by any disease. So instead of putting your body at risk, wake up early and exercise to keep your body healthy and boost your immune system.
Note: Lead Image, others photo and video first uploaded on MAIN: crypto social network.