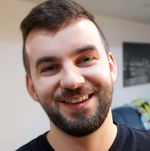 I discussed Horizen with Robert Viglione who is the co-founder of the blockchain and CEO of Horizen labs. We discussed what Horizen does, what they are planning for the future and various examples of Horizen blockchain use cases.
Horizen claims to be the world's most secure interoperable blockchain ecosystem. Their main focus is ensuring data integrity and privacy freedom through the most secure ecosystem of interoperable blockchains.
Zendoo is enabling businesses and developers to build their own private or public blockchains and dapps with affordability, flexibility and efficiency unmatched by any other projects. It's completely decentralized, fully customizable with privacy features, and has very attractive economics.
These are some of the questions we went over:
•             Can you tell us a little bit about yourself?
•             How and when did you originally get into cryptocurrency
•             Can you give us a brief introduction to Horizen?
•             What problem does Horizen solve?
•             How do you ensure privacy and data integrity on Horizen?
•             What blockchains are interoperable with Horizen and how is this achieved?
•             Can you share some of the use cases that Horizen enables? I see that you support Sikoba which I've previously covered with Alex Kampa as well as Joe Roets from DragonChain. I'm also interested in how you are involved with Celsius and IOTA.
•             How did Horizen get its name and what was the original idea or motivation to start it?
•             What are the next big updates for Horizen to release soon or that are in the works?
•             Where does Horizen fit in with other existing similar projects?
•             Where do you see Horizen going in the next year? The next 5 years?
•             So where can everyone go to learn more about this?
Check out https://www.horizen.io/ for more information and to learn more about what they have to offer.
Be sure to follow Robert on Twitter @RobertViglione and Horizen @HorizenGlobal.
What do you think about Horizen? Did you know that they worked with so many blockchain projects and have you used any? Let us know if you have any further questions on Horizen in the comments below and don't forget to like and subscribe as well!
This is a LBRY first video meaning it shows up on LBRY before it gets published anywhere else. If you're not on LBRY, sign up and get started here: https://odysee.com/$/invite/@ScottCBusiness:4
Check this video out on LBRY to support me with monetization and no ads: https://odysee.com/@ScottCBusiness:4/Rob-Viglione-Horizen-Interview:4
Sponsors of scottcbusiness