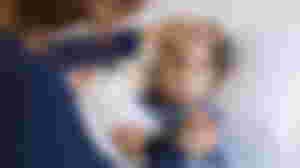 Earlier today he was happy. He woke up at 8 am and we got some breakfast together like we usually do after that he asks for milk and I give it to him. he went back to bed again.
At 10 am her sister got woke up and I cook something that they can eat together. just like yesterday, they play during their meal.
He was okay this afternoon before he took a nap. when he woke he was still happy and playing with his ate (sister). I just watched them while doing some works. this is our daily routine.
this evening at 6:30 pm I wash them because I am preparing them for bedtime and they smell so good because of their sweat. I usually do it to them.
When he is sleeping beside me I notice that he is hot, I took the thermometer and check his temperatures it was 39.3'c he was burning immediately I wipe him with a wet towel once in a while till his temperatures went down.
at 11 pm today he is fine and playing again. whenever they had this fever I am shaking a little for some reason. Thank to our Creator with his mercy my kids are all okay.
I think the reason for his sudden fever is the time I wash him after they play together or because of the weather maybe both. his ate was find and I make sure to give them vitamins every day and give them healthy foods.
I was so worried when he had a sudden fever tonight. I promised to stop washing them every night now, it's hard to be sick in the state of my country now cause they will think of something. that's all be healthy and give attention to your child even more.
Chow Mi Amore