Donna's 2nd Birthday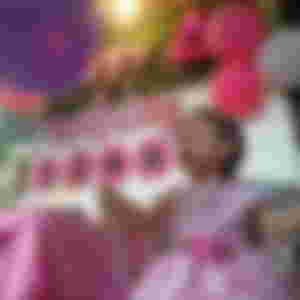 She was so happy that day.🥰😍
I gave birth to her during the height of the pandemic, it was May 12, 2020. Our City was locked down during that time because of amid covid-19 crisis. Despite being in pain during the labor I was so happy knowing that I am giving birth to a baby girl. I was so excited to see her face that time. When I was in the delivery room I prayed and asked God to help me to ease the pain and to keep us normal and healthy. I am so blessed to give birth via normal delivery. We don't have enough money for a Cesarean section so I have to keep in mind that I need to go this way and I don't want to experience the pain of having that cut in the belly. And also, it will leave a scar, I don't want to have another scar because I already have a lot on my legs. I am so grateful that Donna came out after an hour of labor. The other patient in the lying-in was already 2 days in labor. I couldn't imagine the pain she was enduring. Thanks to God for granting my prayers. Donna was a healthy baby girl and just have a birthmark on her right hand.
After 2 years Donna grows full of love from people around her, especially from her grandparents. We held a late celebration on Saturday of her birthday when she's turning two 2 years old. We have to move the celebration so that her grandfather can celebrate with us. We don't have any visitors at that time but I can see the happiness in her eyes. Donna enjoyed it, especially the cake and balloons that were prepared by her Lola(grandmother). We just cooked spaghetti, pansit, and lumpiang Shanghai and we eat it along with the cake that her grandfather bought. A very simple celebration but reaches the genuine and innocent heart. Thanks for the effort of her Lola who designed and decorate the table. Thanks to their financial support and initiation of the celebration. Honestly, I and my husband don't have any penny right now. We couldn't afford to do such things for our little girl. I am a little bit sad about that because I couldn't do more. Even the dress she wore on her birthday was bought by her grandmother.
Above all, I was so happy knowing that my little girl was healthy and active every day. She was very playful. She loves to dance and sing. And now that she is already 2 years old I am going to teach her to recognize colors and shapes. I know it's hard but I would love to try for her. I am going to do my best as her mom. All I want for her is to grow God-fearing and Family-Oriented. I want her to have a pure, good, and innocent mind and heart at all times.