This sweet little Butterfly Pea Flower welcomed me at home.
What a pleasant surprise, no? I found a double petal Butterfly Pea Flower the moment I entered my parent's home, the place where I grew up.
I'm talking about this morning. You can guess how excited I am. My niece and nephew already had a five-minute visit before they went to school. My cousins are calling, hopefully, they will arrive soon.
Unfortunately, the journey by bus from Dhaka to my home was not pleasant. I was in a long 3 hours of traffic in the middle of the night, arrived almost 4 hours late, and felt too exhausted. But all this warm welcome helped us to recover from the exhaustion of the journey.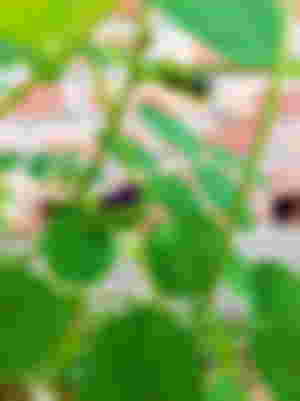 However, undoubtedly this gift of nature means a lot to me. I had a butterfly pea flower plant at my home but it was not flowering for a few months, maybe because of a lack of nurturing. After seeing my mom's one, my heart was full of joy. This blue flower is my all-time favorite.
I couldn't manage to join my family in this previous religious festival, I was missing home so much. My son was super excited to see his grandparents after many days but we had to cancel the visit at the very last moment. Finally, we arrived home after the celebration. But that's fine. We will catch up with a lot more excitement, fun, and family events.
I will share my exhausting travel experience with you soon on another blog.
Have a good day, everyone.